Solutions
We offer solutions to suit from a single student studying anatomy to large universities and hospitals. Our full spectrum of solutions is accommodating self-directed learning, teaching toolkits, and patient education. Join our worldwide immersive education community and accelerate the learning and teaching process of anatomy in medical and healthcare education.
Guests
Guest access is free for everyone and forever! It includes all 3D models of the skeletal system and connective tissues. Animations of joints and bones contained in the human 'Actions' module are free too! Full access will unlock all body systems, microscopic anatomy, body actions, and many more features and functions. Guest users can join remote delivery sessions.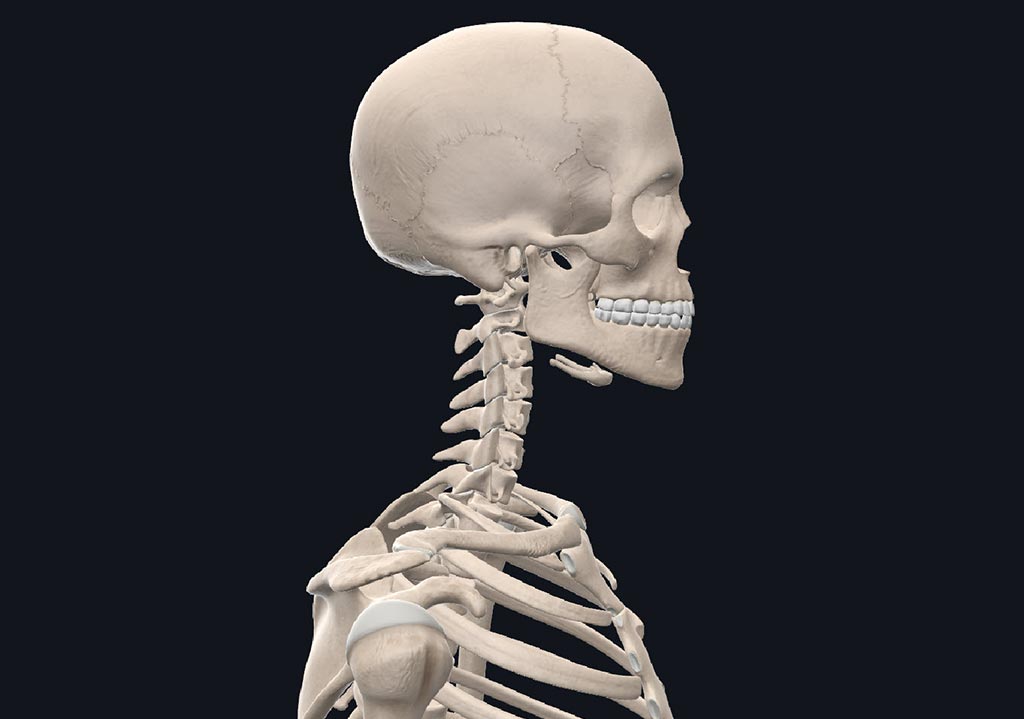 Students
The way learning is acquired, quite often, is far from satisfactory. Shifting from a teacher-centered approach to a learner-centered mode seems to be imperative. Study anatomy in the most immersive and interactive way with 3D Organon and build up your autonomy. Students can access the whole database of 3D models, images, animations, formative assessments, and definitions at the institution, or study at home. Test your knowledge with our clinical anatomy interactive Quiz questions.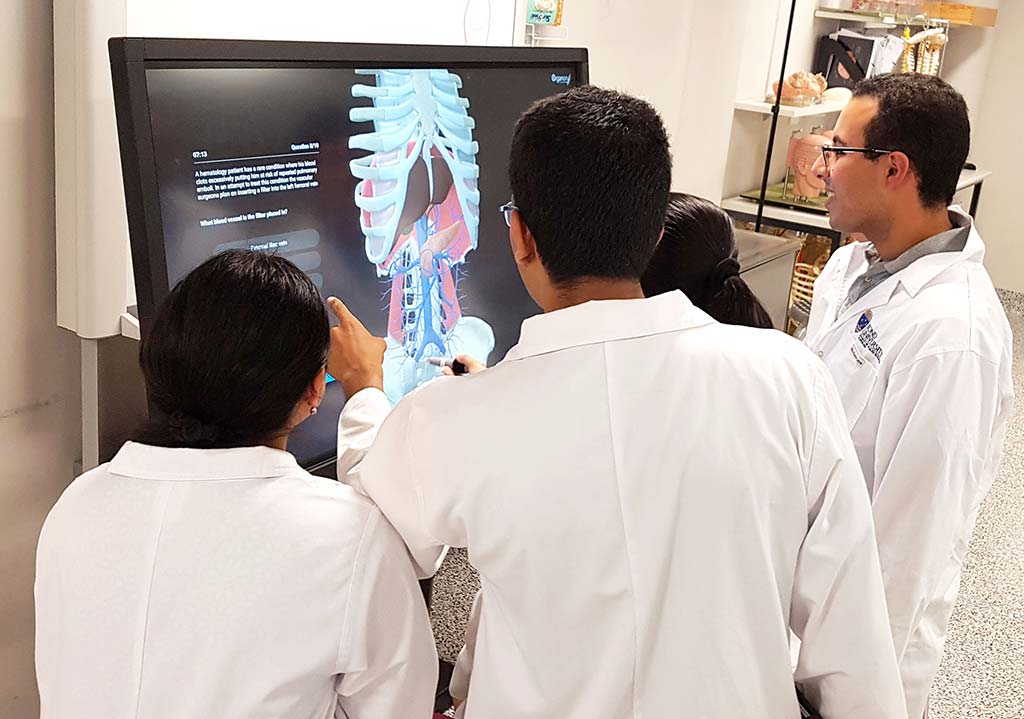 Educators
Why not become an effective teacher who manages to facilitate learning in a most effortless way? Bring 3D Organon into the anatomy class and demonstrate the full breadth and depth of the human body like never before. You can now create and lead multiuser cross-platform remote delivery sessions with students participating in live virtual dissections from anywhere.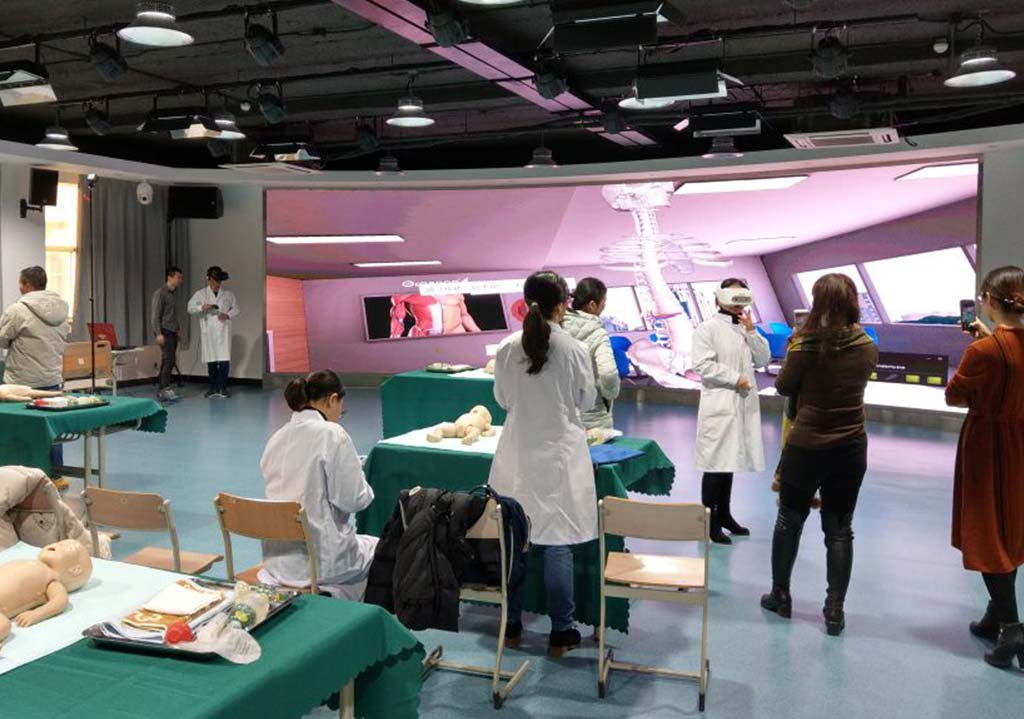 Professionals
Did you know that over 60% of patients do not understand fundamental information regarding their treatment plans? Based on research, 44% do not know the exact nature of their operation. Healthcare professionals can easily demonstrate essential anatomy with 3D Organon to enhance patient education and improve treatment outcomes.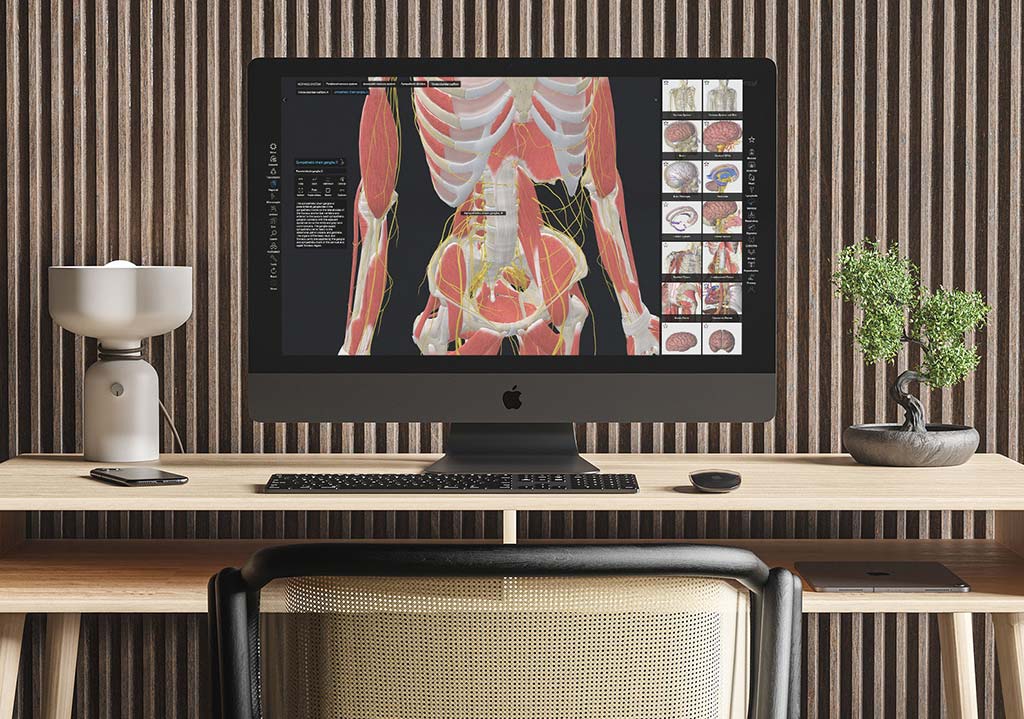 Institutions
Why staying behind? Join the immersive education revolution now and give your institution an edge. Give prestige and recognition to your courses. We can help you create a new learning ecosystem designed for the current generation of learners. Running your sessions on campus, remotely or in a hybrid way, we have solutions for you either way.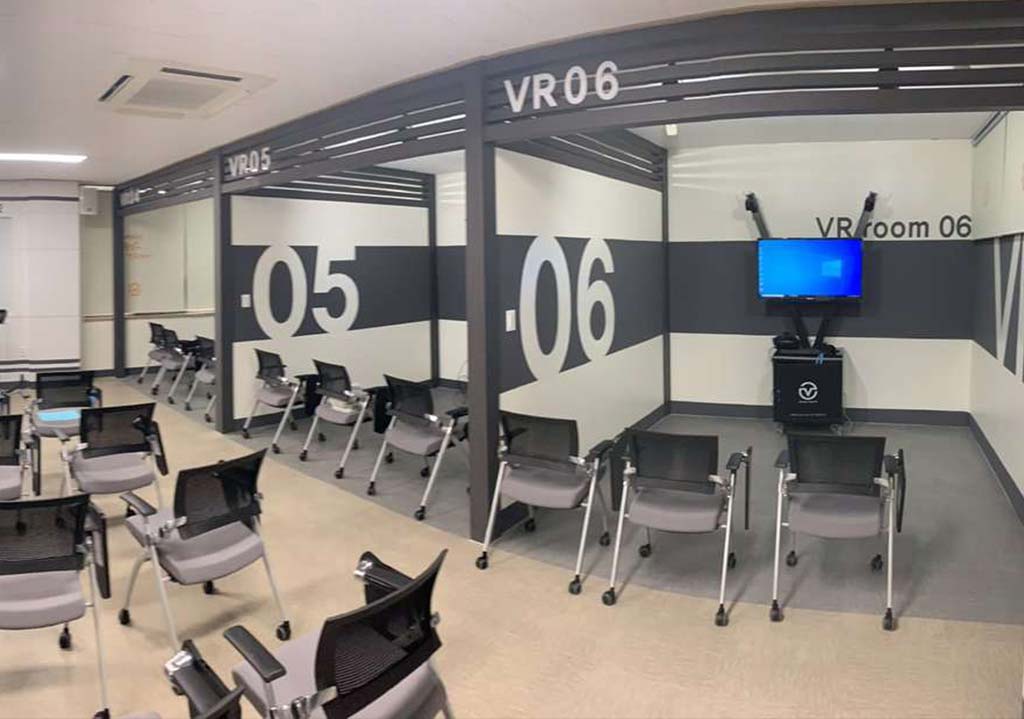 XR Experience
3D Organon solutions embrace all the cutting edge technologies in the XR ecosystem (virtual, augmented, and mixed reality) to enrich the quality of medical education where the learner is further stimulated to select, observe, interact, organize and, finally, transform abstract anatomy concepts into concrete knowledge.
Virtual Reality | VR
The invention of affordable VR headsets gave birth to the world's first VR Anatomy software. 3D Organon VR Anatomy enhances anatomy tutorials by enabling a realistic navigation of the body structures and organs in a stimulating 3D space. 
Students achieve better encoding of information with stronger memory imprints that promote long-term retention, and thus, learning competency. 
VR technology in education has an exceptional value as it remodels the way of knowledge acquisition. By fostering a dynamic flow of learning, it transforms the hard to obtain anatomy content into a skillful and meaningful discovery in the most entertaining environment.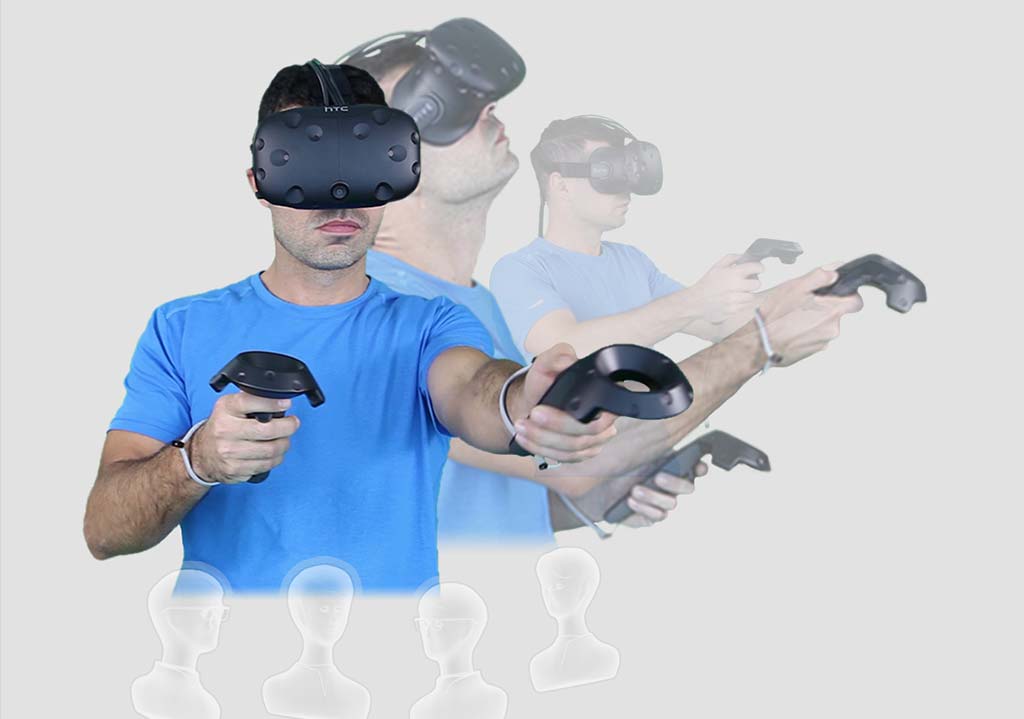 Mixed Reality | MR
Blend the virtual anatomy world models and interact with the real environment to better grasp physiology and kinesiology concepts. Mixed reality allows for an enhanced experience between augmented and virtual reality.
Augmented Reality | AR
You can now experience immersive technologies on the go. Our smartphone software has integrated augmented reality where anatomy is superimposed onto your real environment. It is super easy to do and super fun!
Walking Experience
Boost your interest to the maximum and make it easier to concentrate. Start walking around a 3D model, pick anatomical structures, inspect them with this new type of reality and feel the excitement of motion. With a walking virtual reality experience there is nothing to hold you down. Learning can now become more effective, with no distractions around affecting your attention.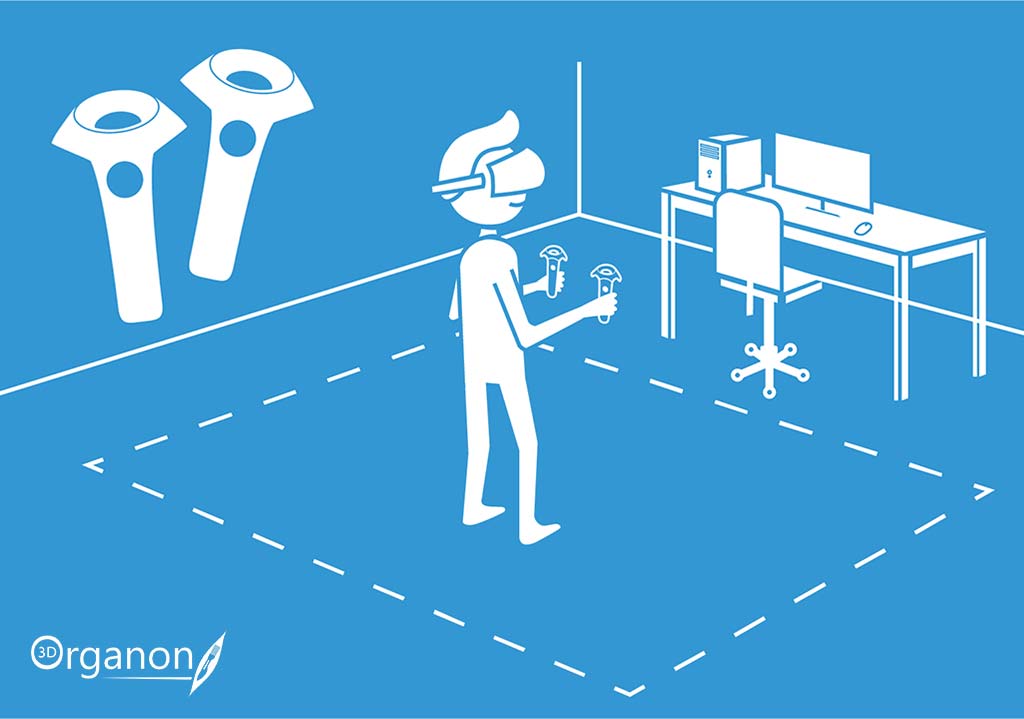 Seated/Standing Experience
Do you have limited floor space but still want to experience VR? 
Not a problem. 3D Organon's intuitive user interface allows you to use your VR controllers to rotate the 3D model across all axes, pan, and scale its size. You can still have the same great experience even when seated, too.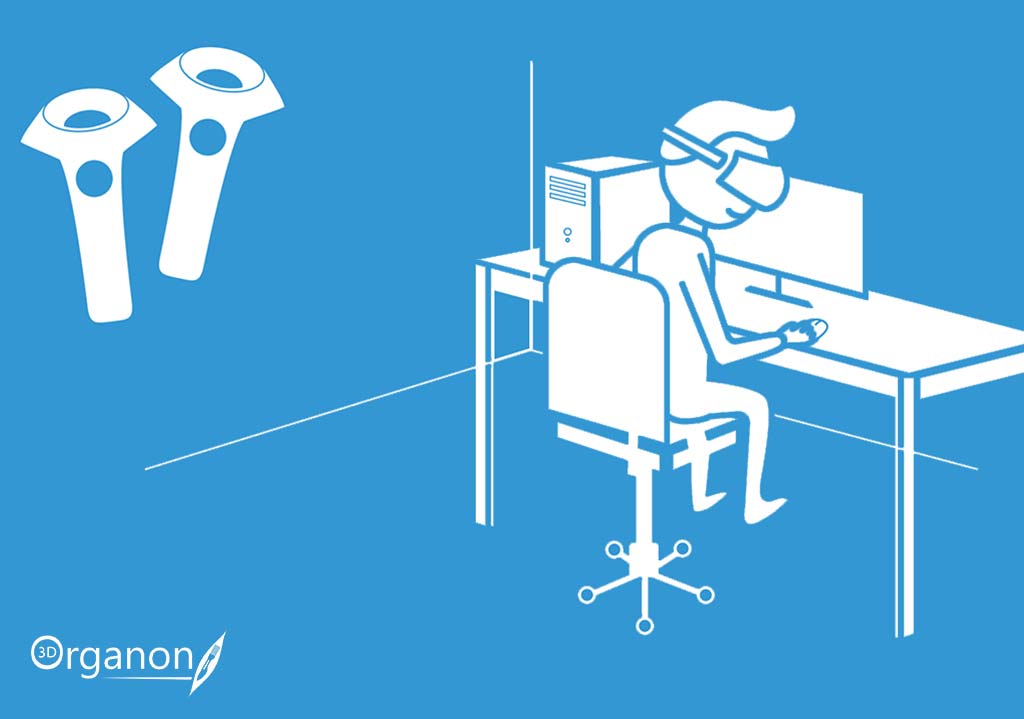 Body Systems
Explore all 15 body systems of the human body organized in separate user interface buttons and accelerate your learning. Building up a 3D model from bones to skin can prove a revealing exploration in the human body.
Skeletal System
Anatomy starts with an insight into its basic framework, the bones of the skeleton. Don't miss the opportunity of a more comprehensive examination with the bone mapping and joint movement modules. The fully-selectable colored maps of the surfaces, borders, parts, and landmarks on each bone, set the analytical framework to evaluate geometric properties through the simplest and most entertaining activity ever.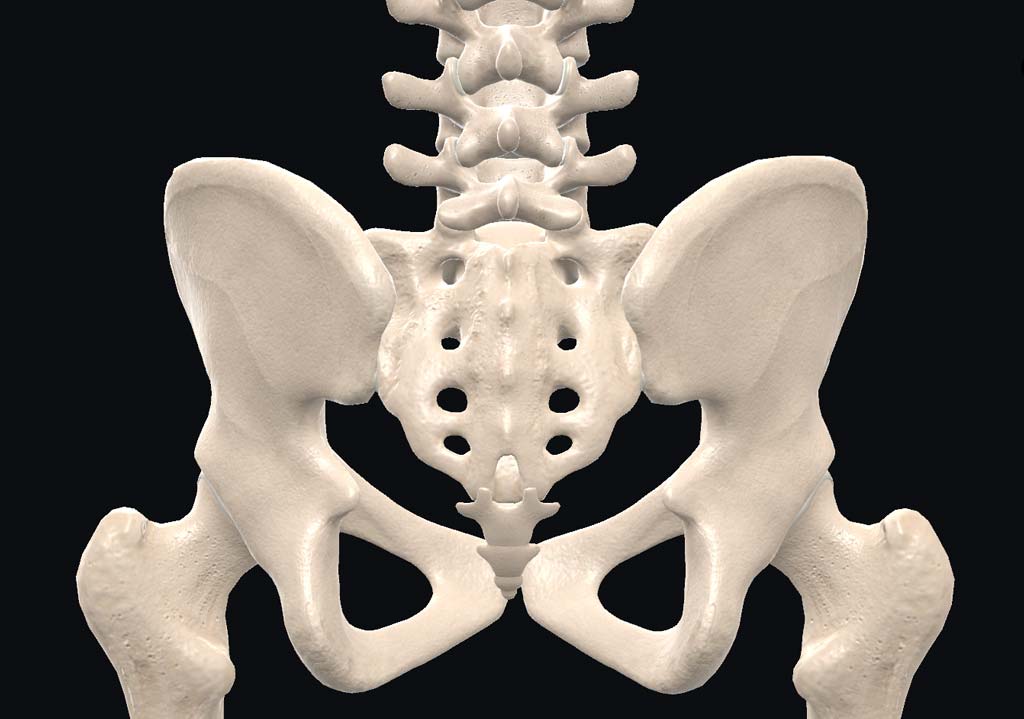 Connective Tissue
An important addition to the skeletal anatomy learning is the incorporation of connective tissues. Explore the 3D Organon detailed models of ligaments, cartilages, membranes, fasciae, meninges, and bursae and enhance comprehension of the components that mainly support and connect the body structures.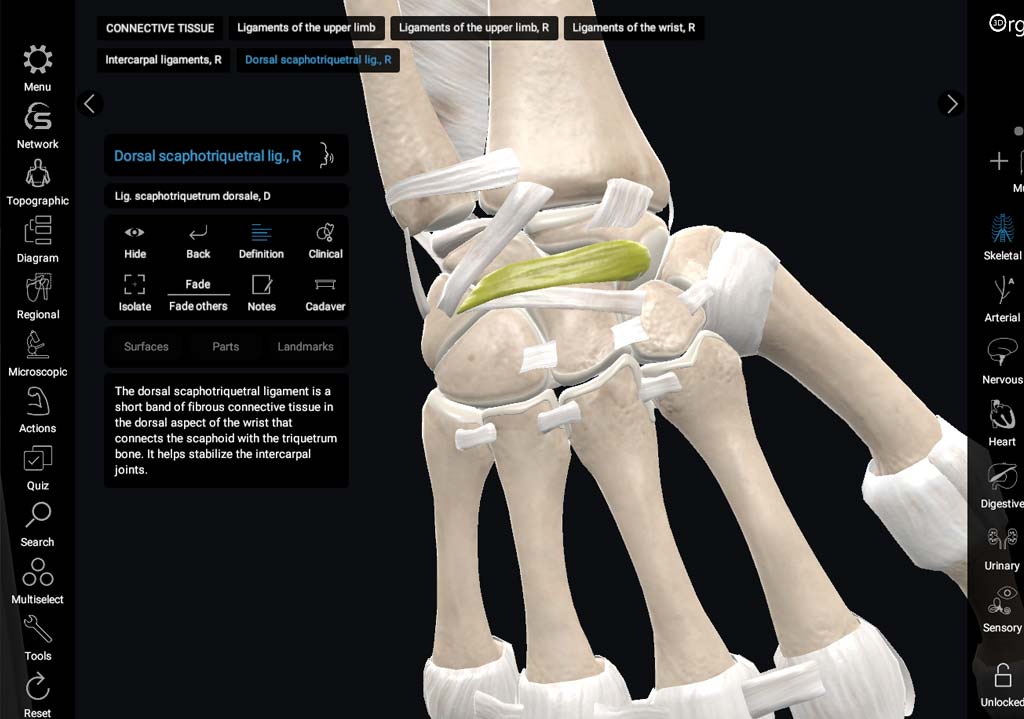 Muscular System
It now takes no effort to delve into the different layers of muscles that move the skeleton, organized from deep to superficial. Each muscle is supplemented by a text defining the muscle's origin, insertion, blood supply, innervation, action and many more.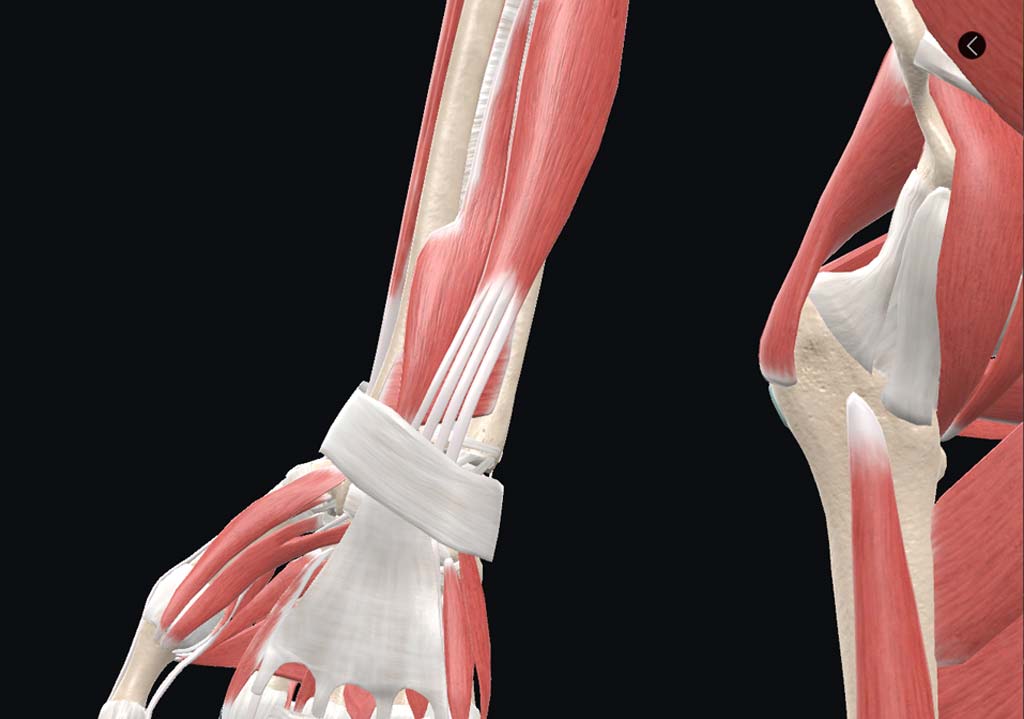 Arterial System
Explore the perplexity of the vessels that transport oxygenated blood to the cells of the human body. Learn about the branching pattern of arteries with ease.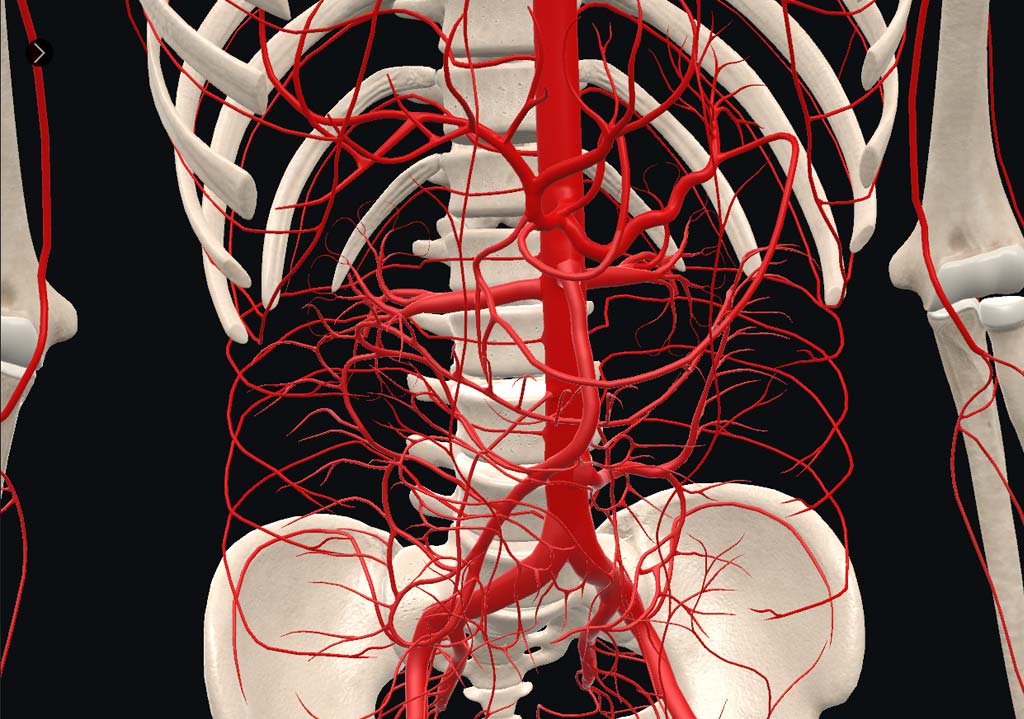 Venous System
Examine the vessels that transfer poorly oxygenated blood from organs and tissues back to the heart. Gain insight into the branching pattern of veins with a smooth navigation.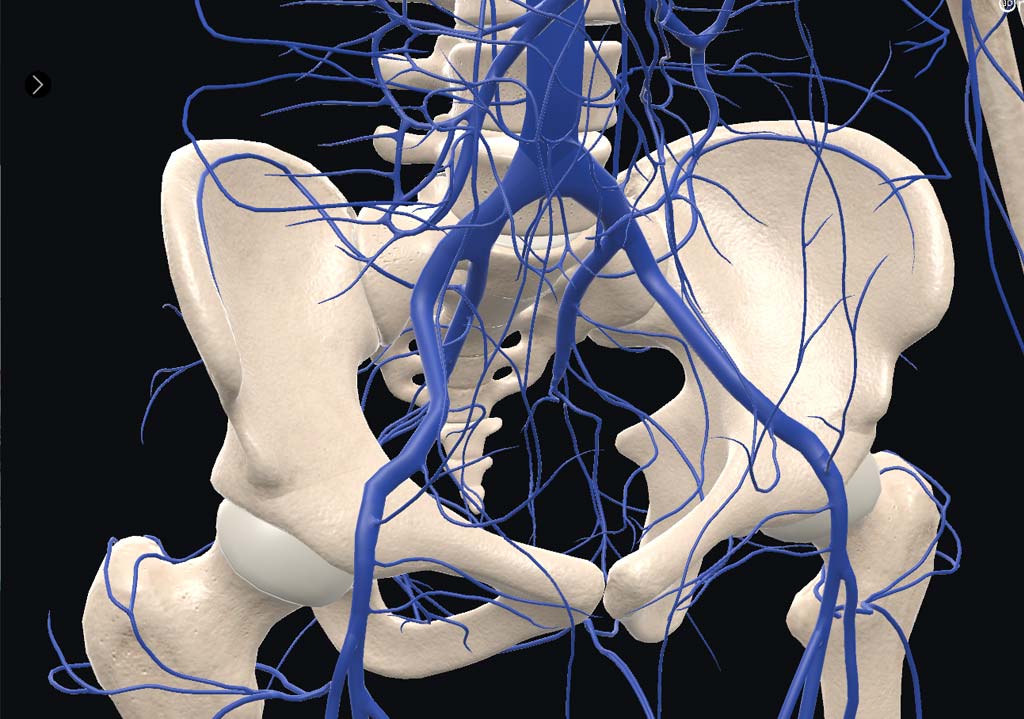 Lymphatic System
Explore the branching pattern of lymph vessel circulation and the locations of lymph nodes and lymphoid tissues. Experience learning about the organs responsible for the defense against pathological microorganisms and achieve outstanding knowledge competence.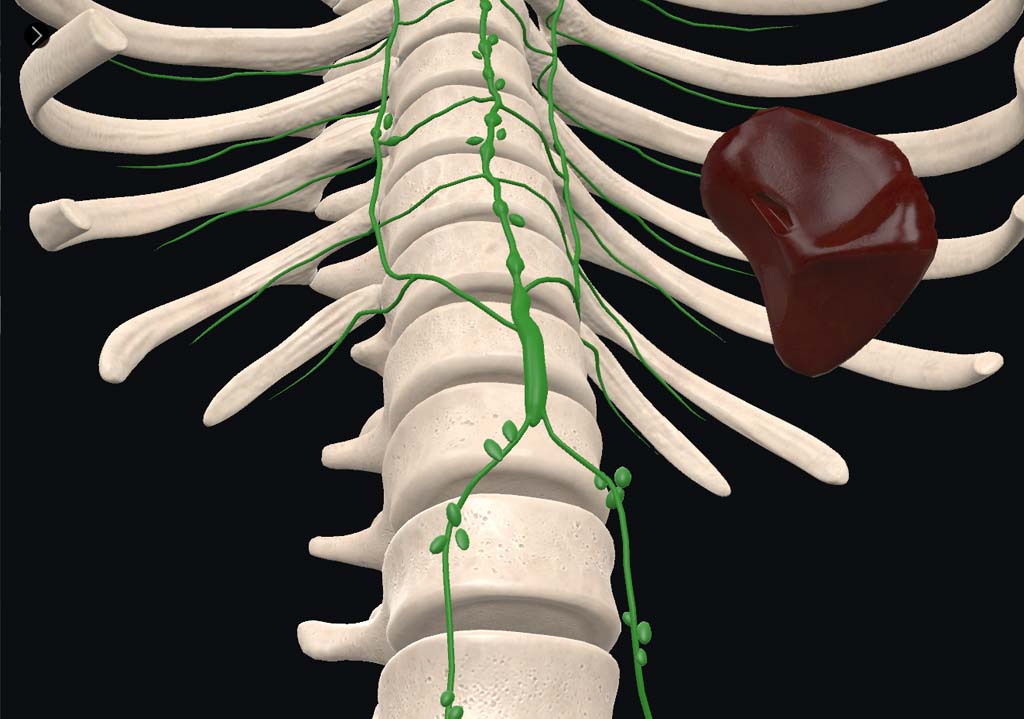 Nervous System
Examine all the fascinating components of the nervous system that allow us to perceive the world around us, from fundamentals to advanced. The anatomy models in 3D Organon help students gain an overview of the interconnectivity of the nervous system to the rest of the body systems.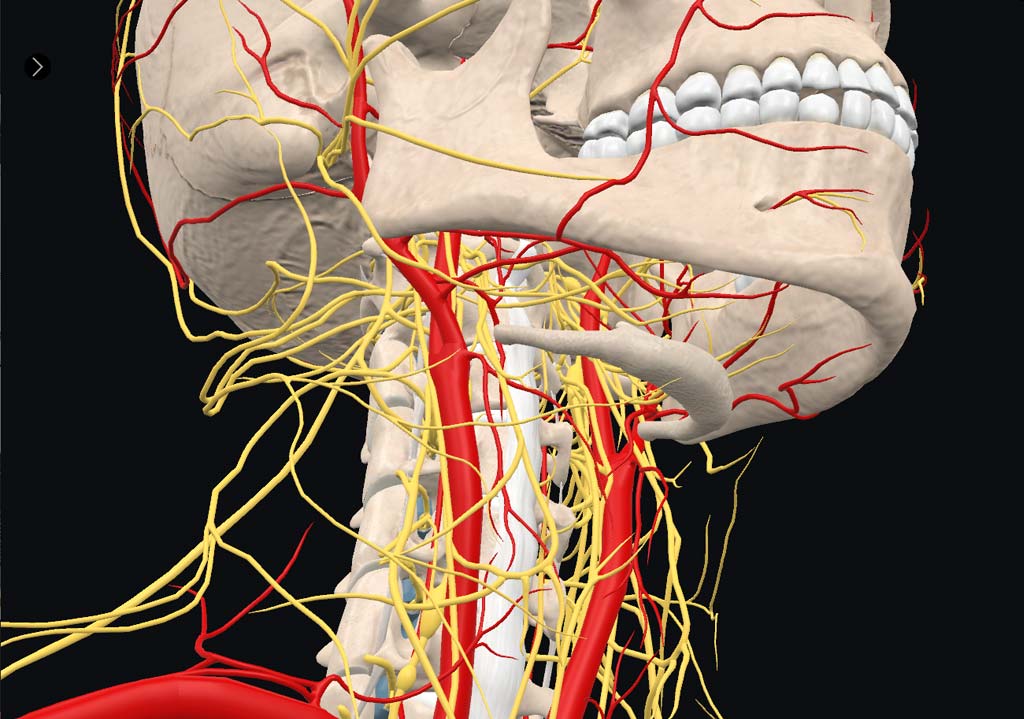 Heart
The magnificence of the heart lies in its continuous pumping of blood to tissues throughout the body. Shed light on the structure and function of this vital organ. Expound on the pulmonary, coronary, systemic, and fetal circulations. Start building up your learning with the cardiac cycle and the conductive system of the heart, and finish up with the fibrous skeleton where the heart valves are connected to.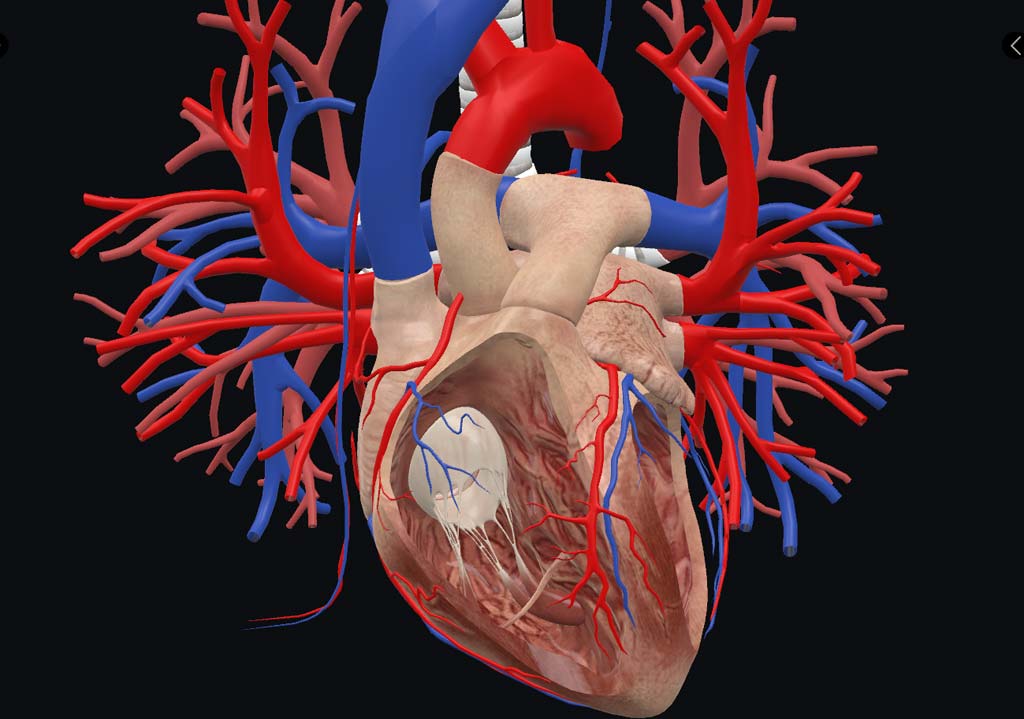 Respiratory System
The respiratory system consists of organs and tissues responsible for the amount of oxygen entering our bodies, and carbon dioxide leaving our bodies. Identify the different divisions, spaces, tubes and regions of this principal system of the body that help breathing.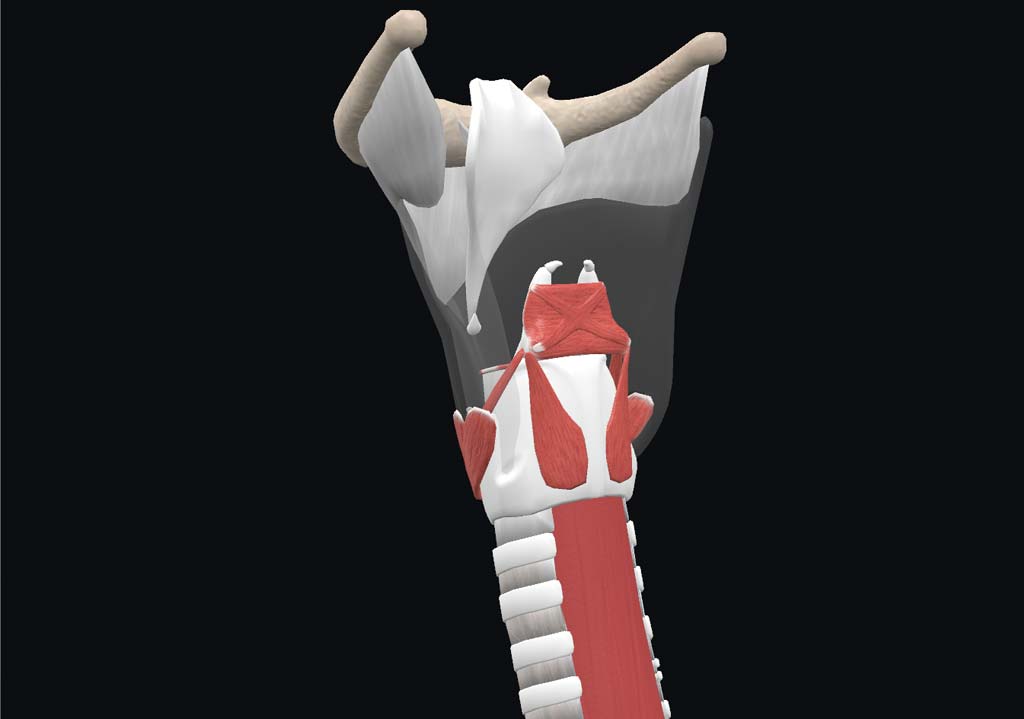 Digestive System
The digestive system modulates foods that can be absorbed by cells into molecules. It is also responsible for bile production and elimination of waste material. With 3D Organon you can delve into the components of the gastrointestinal tract and its accessory organs. Elucidate their locations, and unveil their relationships with other organ systems, vertebral levels, functions and many more.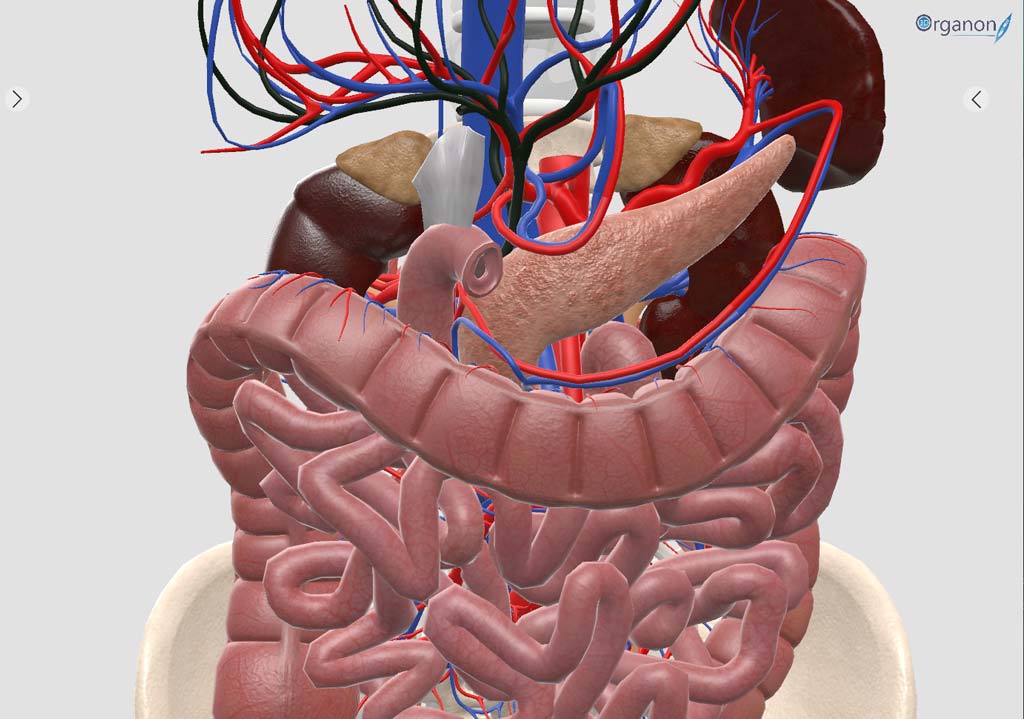 Endocrine System
The endocrine system produces hormones and together with the nervous system they orchestrate the functions of the human body. Explore the organs that form this system, establish their location and document their connection with other organs and body systems.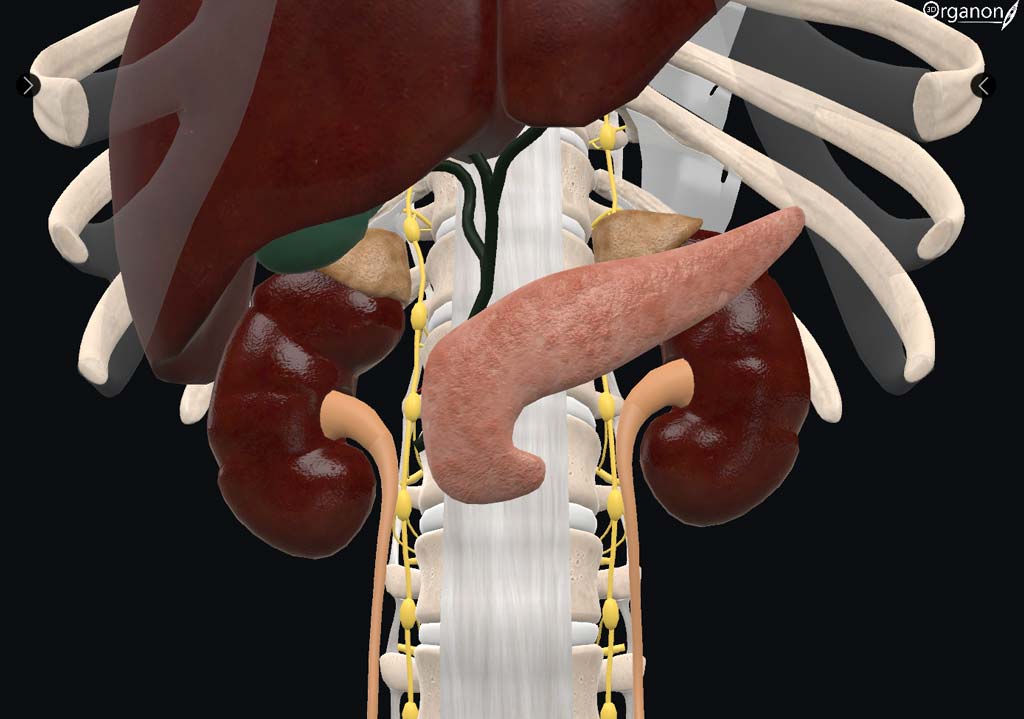 Urinary System
The urinary system has an important role in regulating fluid balance, waste elimination, and blood production. Grasp the structure of the renal calyceal system, as well as the positioning and relationships of the organs and tubes in the abdominal cavity and pelvis.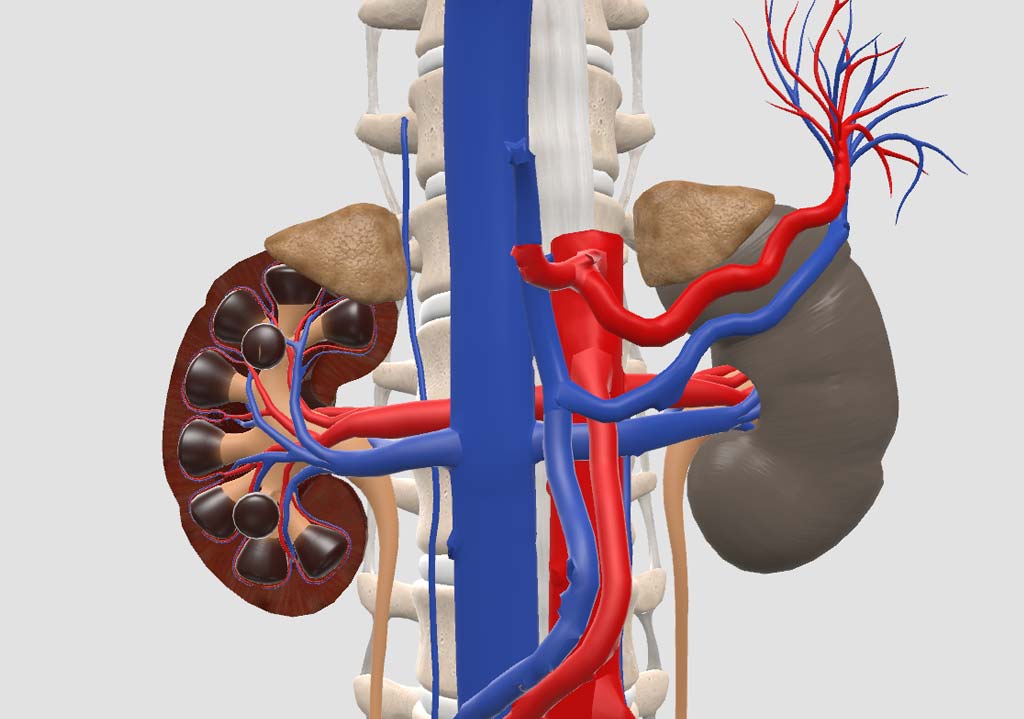 Reproductive System
Identify the differences of the organs of the female and male reproductive systems. Study the structure of the different parts encompassed and observe the direct association among organs such as the urinary and digestive tracts.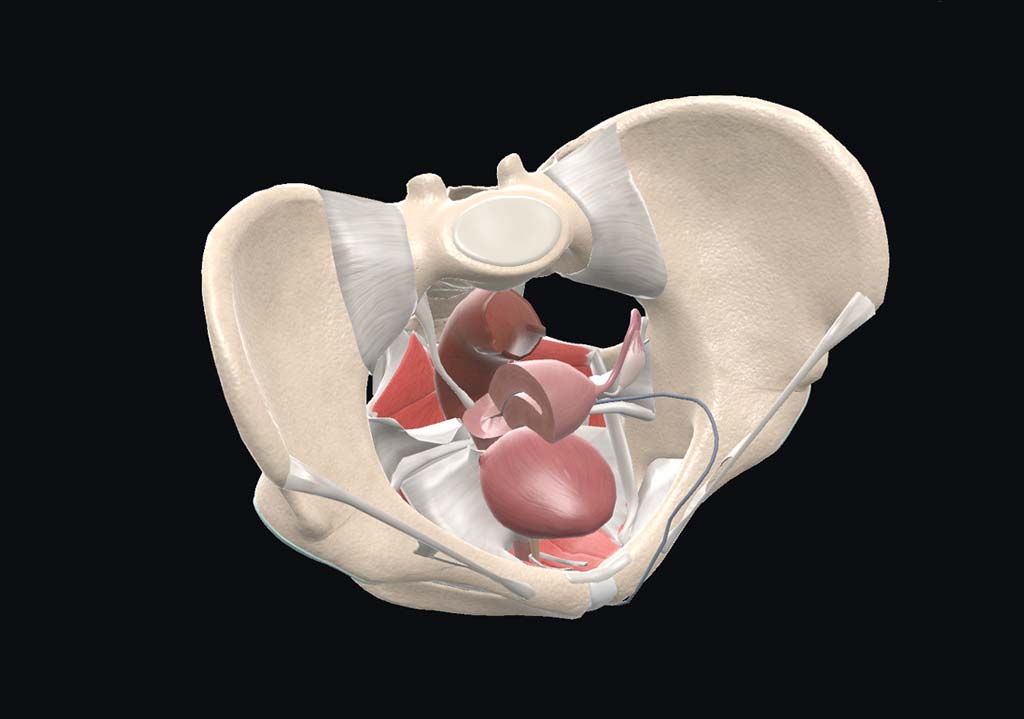 Sensory Organs
Sensory organs are integral in perceiving and interpreting the world around us. Examine their structures and composition and learn about the functions of smell, vision, hearing, balance, and taste.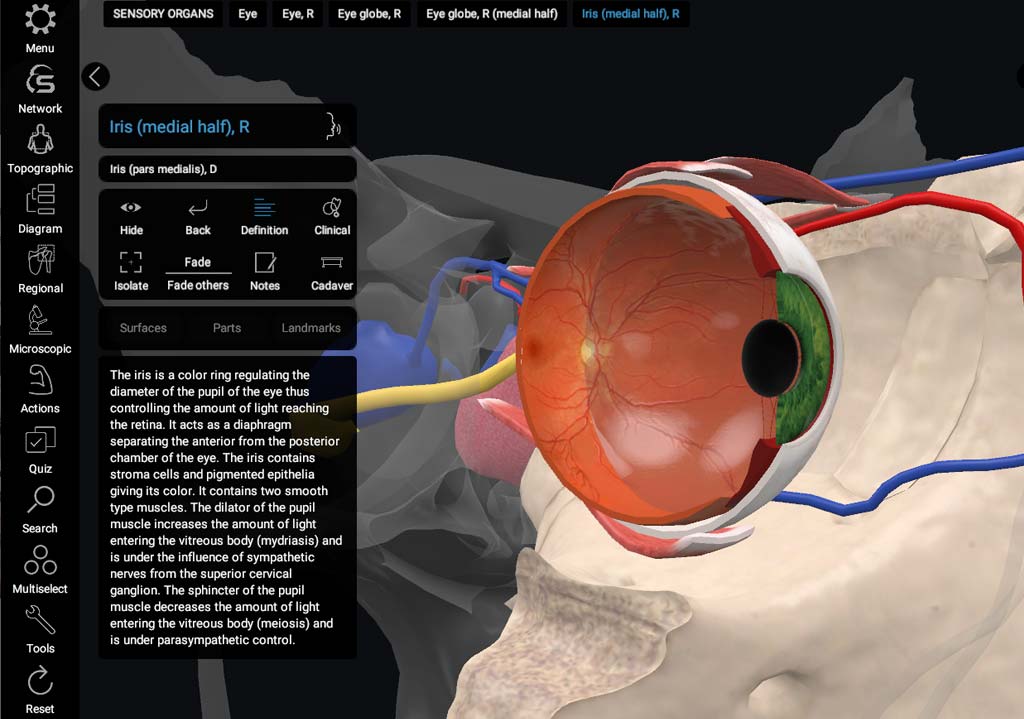 Integumentary (Skin) System
The skin is the most extensive and visibly exposed organ of the human body. With 3D Organon you can delve into the surface anatomy of the organs and tissues per body region.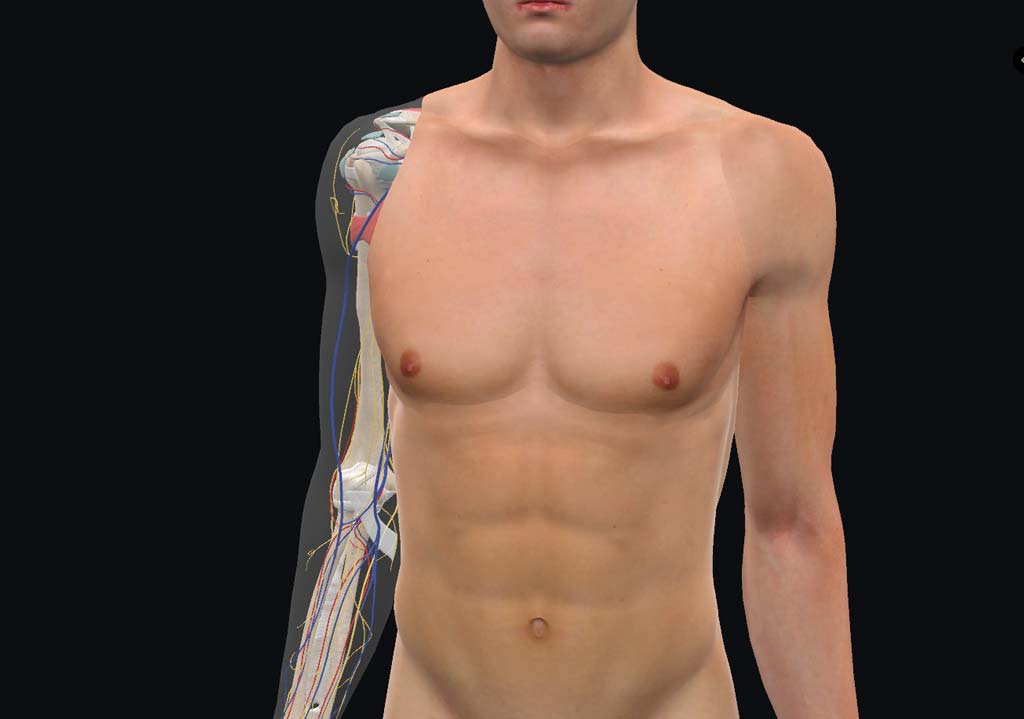 Modules
Accelerate your learning capacity and lay the foundations for success. Building up a 3D model from bones to skin has never been easier.
System Based Anatomy
The system-based anatomy module provides students with the big picture of a single body system. Further addition of body systems on the scene view provides the building blocks to develop a thorough understanding of and master anatomical correlations and organ positioning.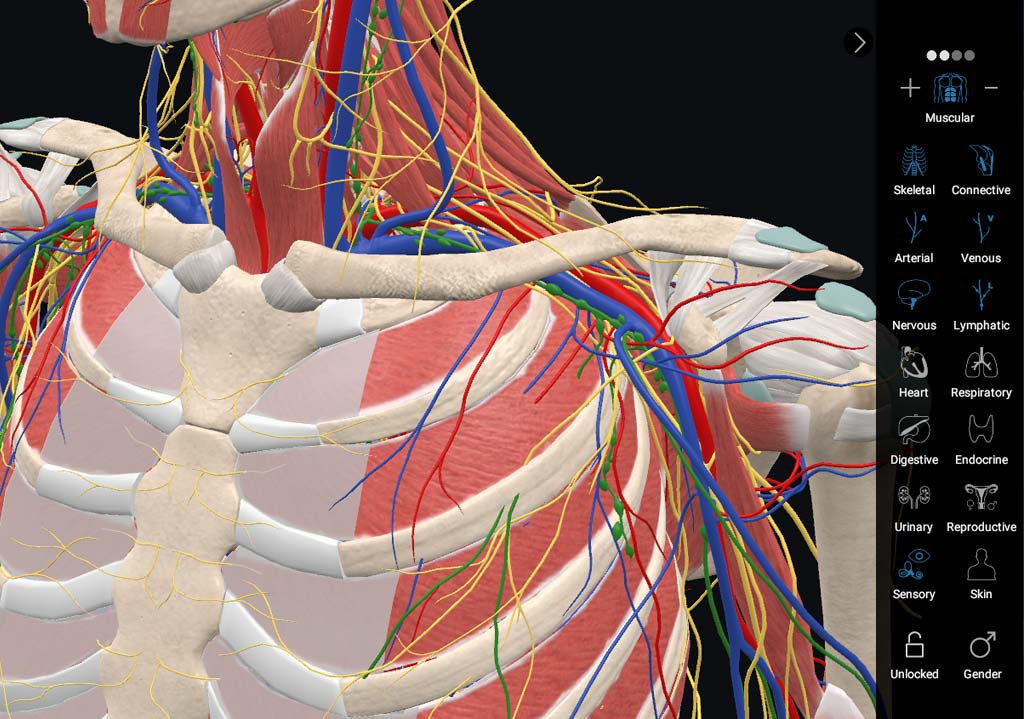 Topographic Anatomy
Observe the layering between anatomical structures per region of the body through surface anatomy. Isolate specific models per region to emphasize the relative positions of various body parts and the relations of structures.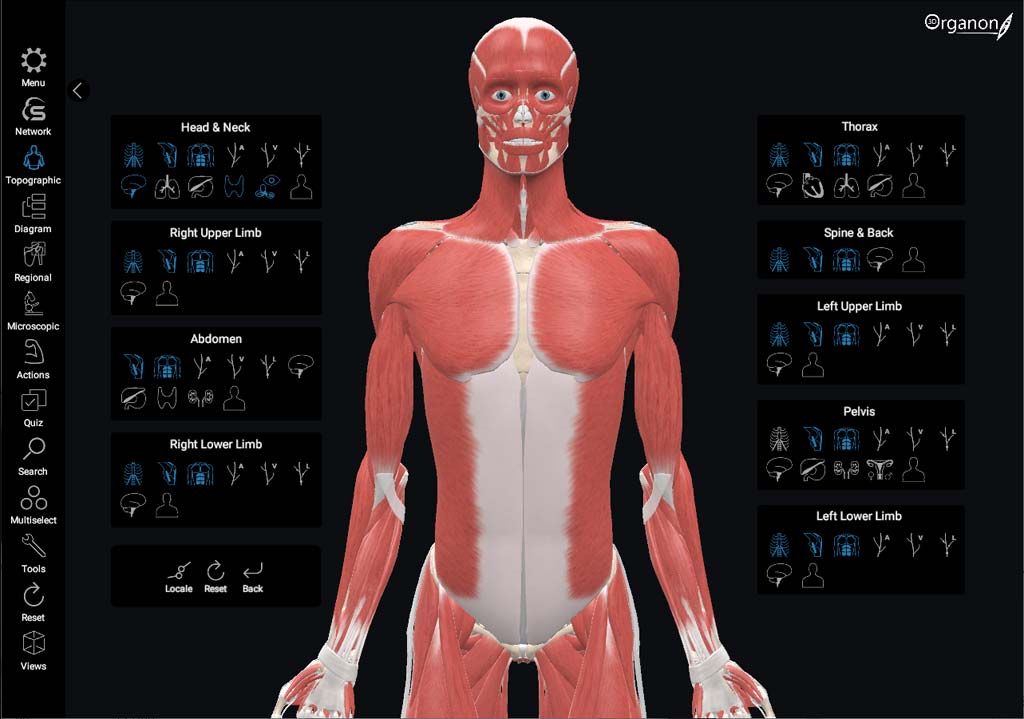 Regional Anatomy
Explore anatomy based on regions, parts or divisions of the body and appreciate the interrelationships of various body structures, such as muscles, nerves, arteries etc. in that area. The preconfigured regional anatomy scenes in 3D Organon are ready to launch for quick access on popular anatomy views.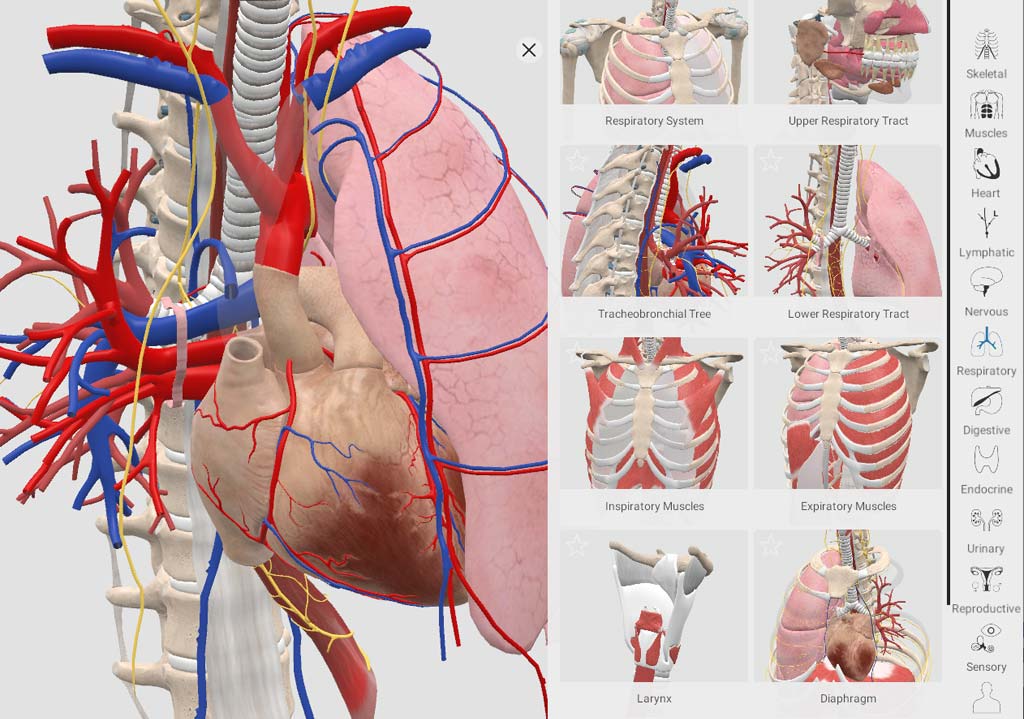 Microscopic Anatomy
Explore the detailed anatomical models and learn about the structure, composition and function of important organs and tissues at a microscopic scale. Traditional thin slice microscope-based education is missing depth and distorts tissues and organelles. 3D Organon's extensive database of full-thickness 3D models enables a stratified histological analysis and provides a true depth perspective.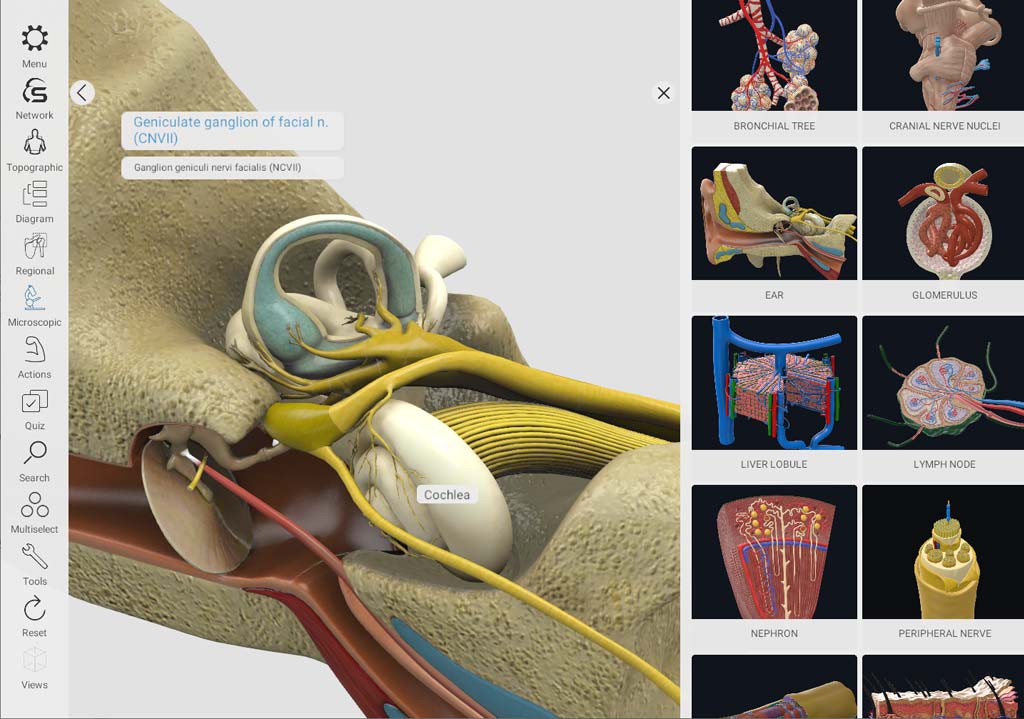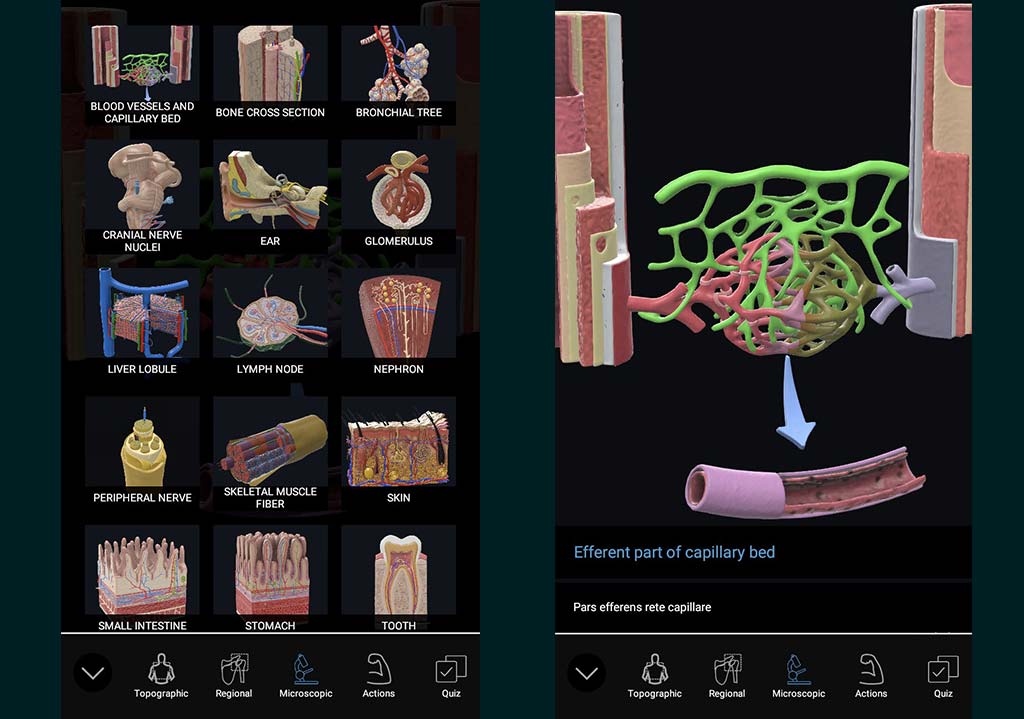 Body Actions
Benefit from the human body actions module featuring over 550 real-time animations of joints, muscles, respiratory system, cardiovascular system, reproductive system, and sensory organs. Each movement performed by a muscle is displayed and labeled separately offering a superior learning experience. 
3D Organon is the only platform that supports body actions in all XR experiences (VR, AR, and MR).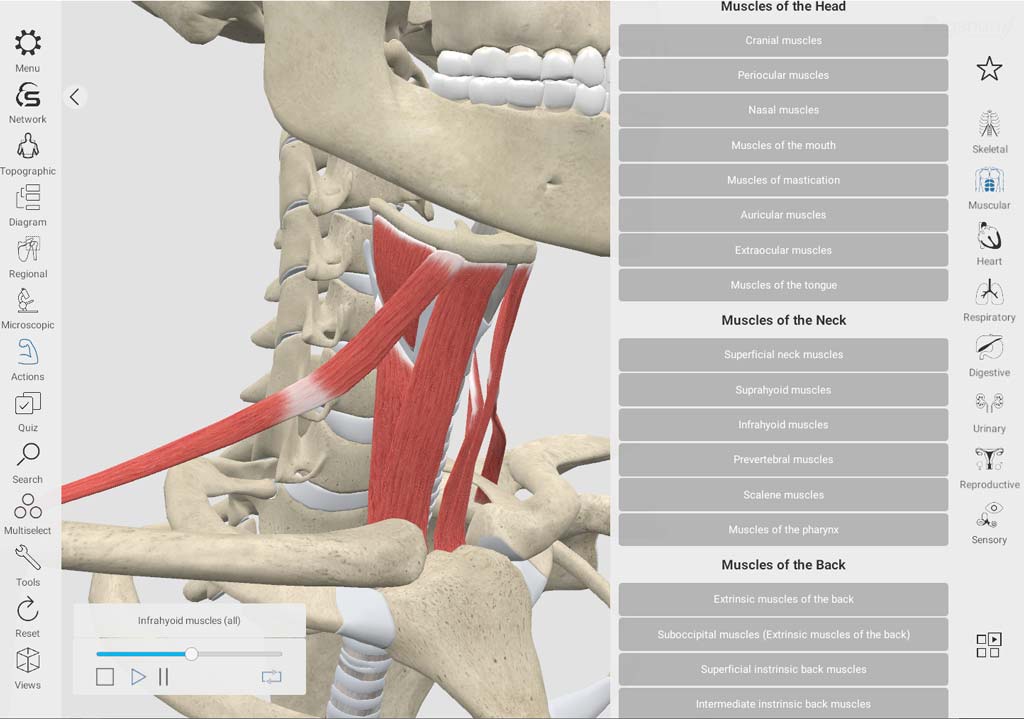 Bone Mapping | Landmarks
Students build their essential knowledge in anatomy starting with the bones of the axial and appendicular skeleton. The bone mapping module in 3D Organon offers a detailed color mapping for each bone of the body organized into Parts, Borders, Surfaces, and Landmarks. This module details over 3,500 bone features and landmarks presented with appealing colors and highlights. 
Studying the in-depth details transforms into a pleasant exploration.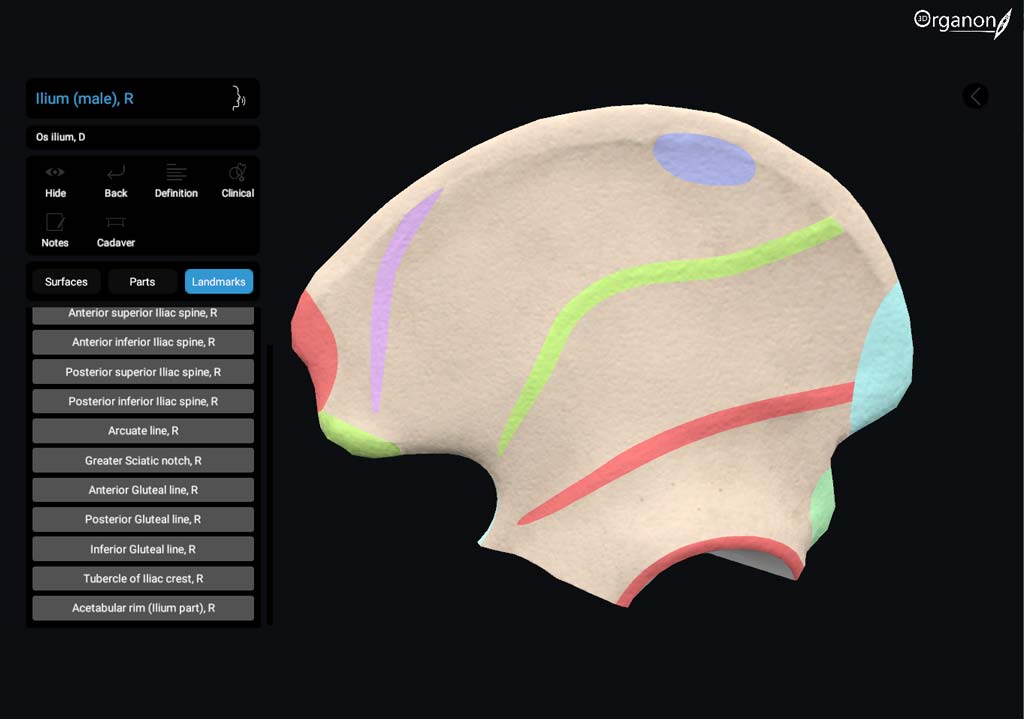 Formative Assessment | Quizzes
Test your knowledge in identifying anatomical structures with the clinical anatomy Quiz module. The requirement to explore the 3D model and select the correct answer option promotes student self-directed learning. 3D Organon is the only platform which includes real-time assessments in all XR experiences (VR, AR, and MR) in immersive learning environments.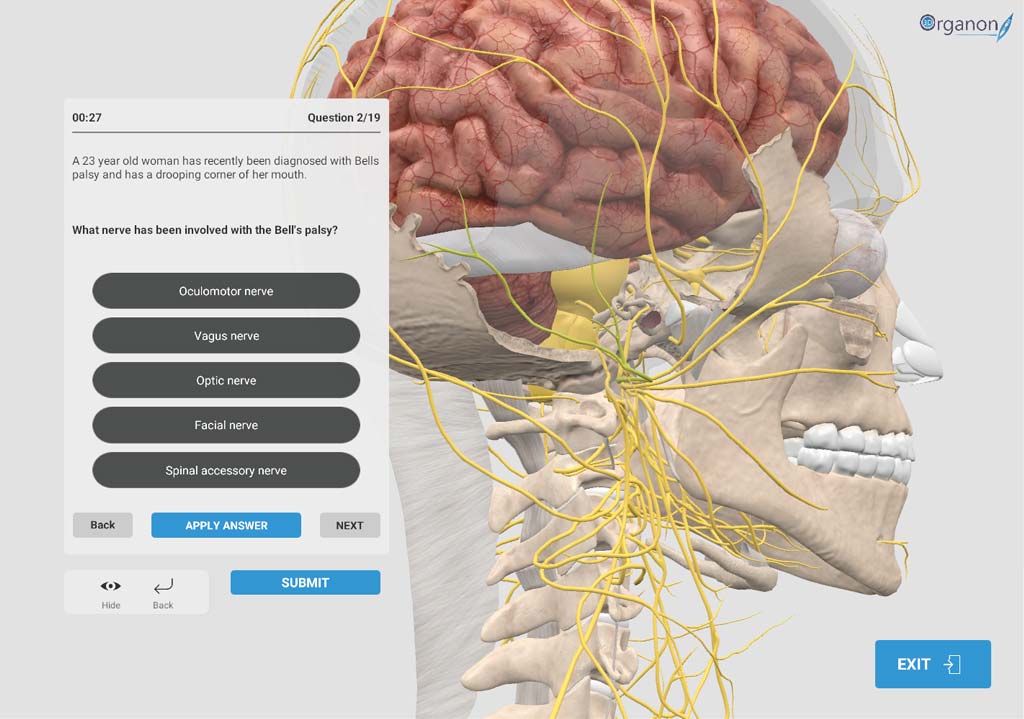 Cadaveric Images
You can now overcome the problem of restricted numbers of cadavers in your lab. Enrich your anatomy study with supplementary learning material from multiple real-life dissection images. Compare with anatomy models and make clinical correlations. Take the opportunity to interact as if you were in a dissection lab, in a real-world environment.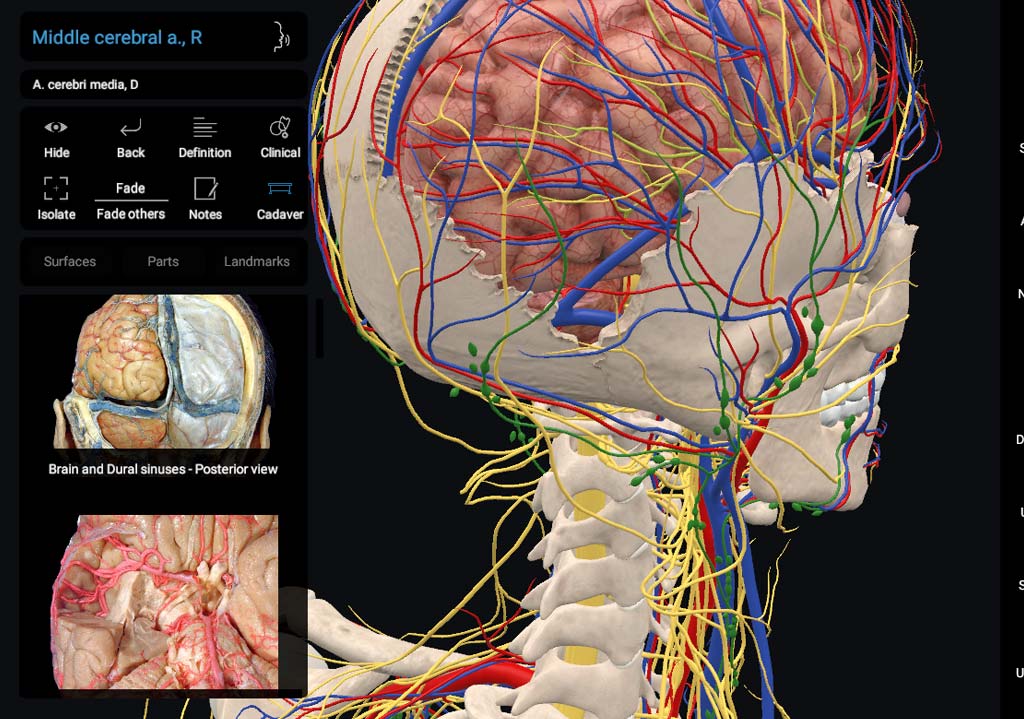 Clinical Correlations
Get essential knowledge on a wide range of pathologies organized in body systems. Combine this knowledge with anatomy and gain insight into the clinical significance and reasoning behind clinical manifestations.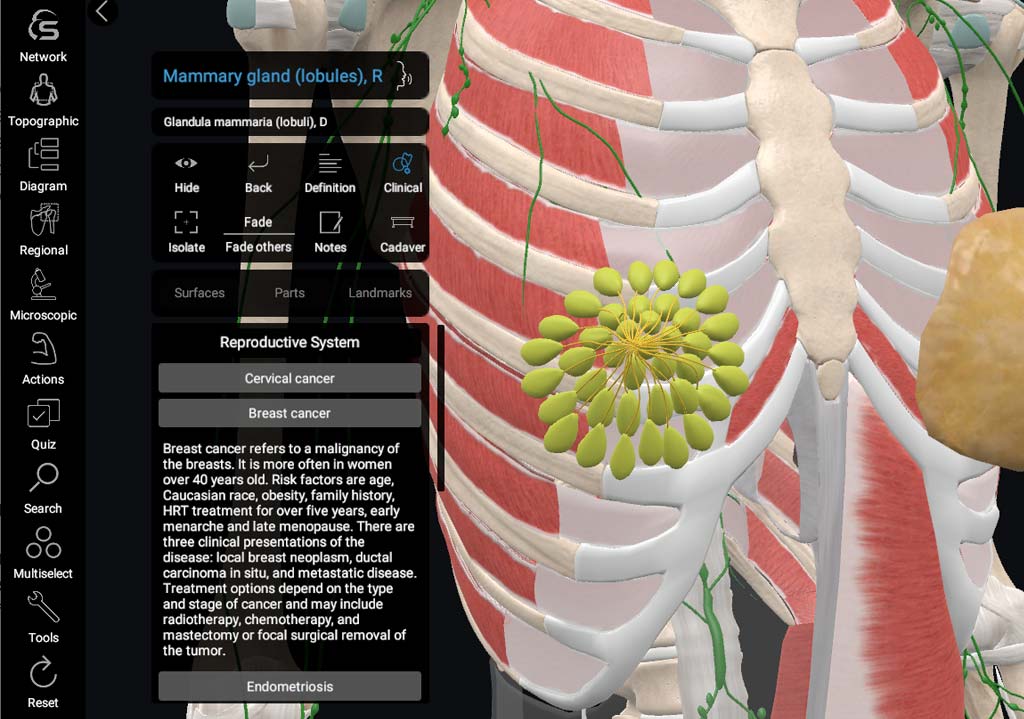 Multiple Workspaces
Preload desired 3D models to study in three different workspaces and switch between them without wasting time. This function enables the smooth and fast transition between related body regions. 
Available in desktop and tablet solutions.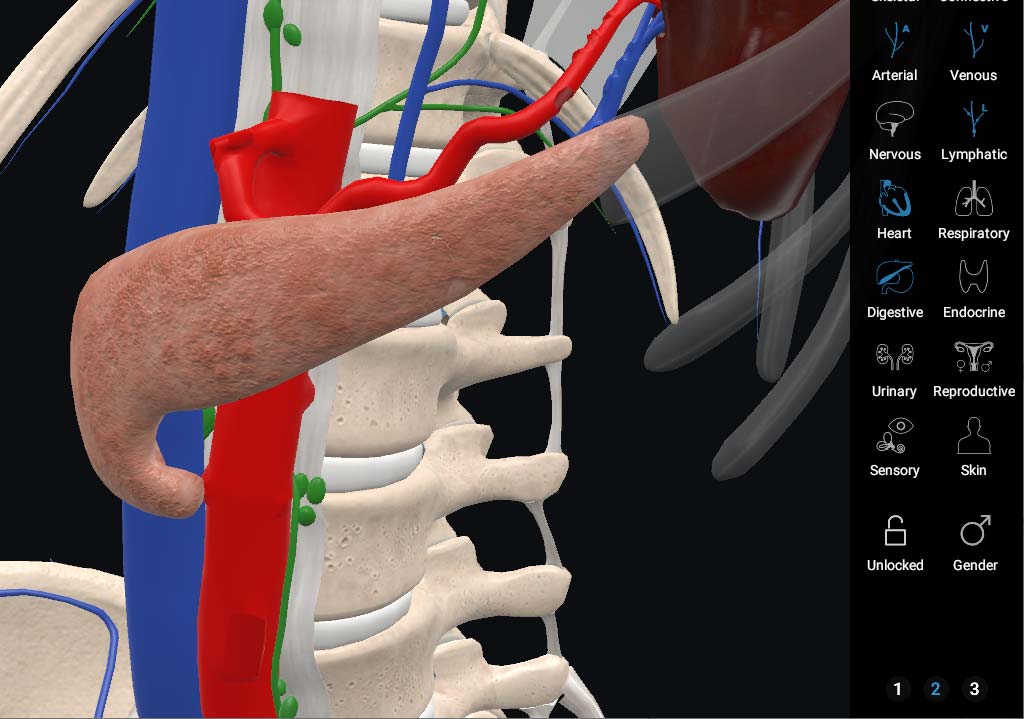 Multiple Environments
Do you find using the same background colors restraining? You can now pick the background that suits your teaching style better. You can switch among four different environments in VR (tutorial room, light, dark, and your real environment in mixed reality mode). Dark and light user interface selections are available in desktop, smartphone, and tablet solutions. Switching between dark and light user interfaces is handy to tuning the appearance and contrast on your screen.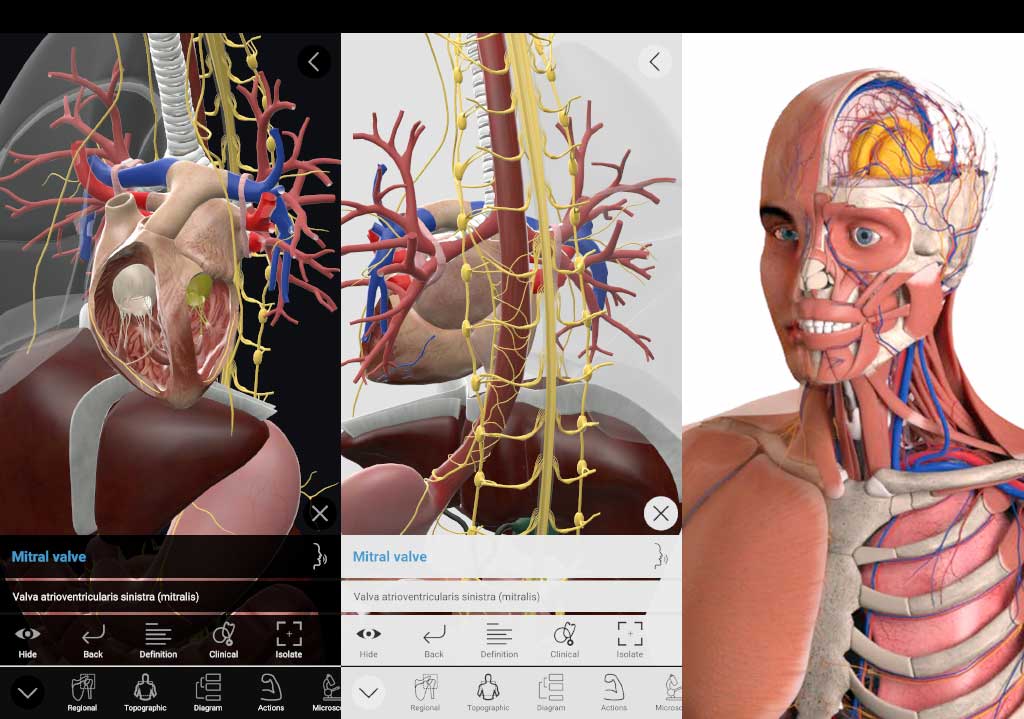 View Switching
The view switching module in 3D Organon empowers agile transitioning between anterior, posterior, superior, inferior and lateral views of the various anatomy models, with the ability to center any 3D model with the click of a button. 
Available in desktop, smartphone, and tablet solutions.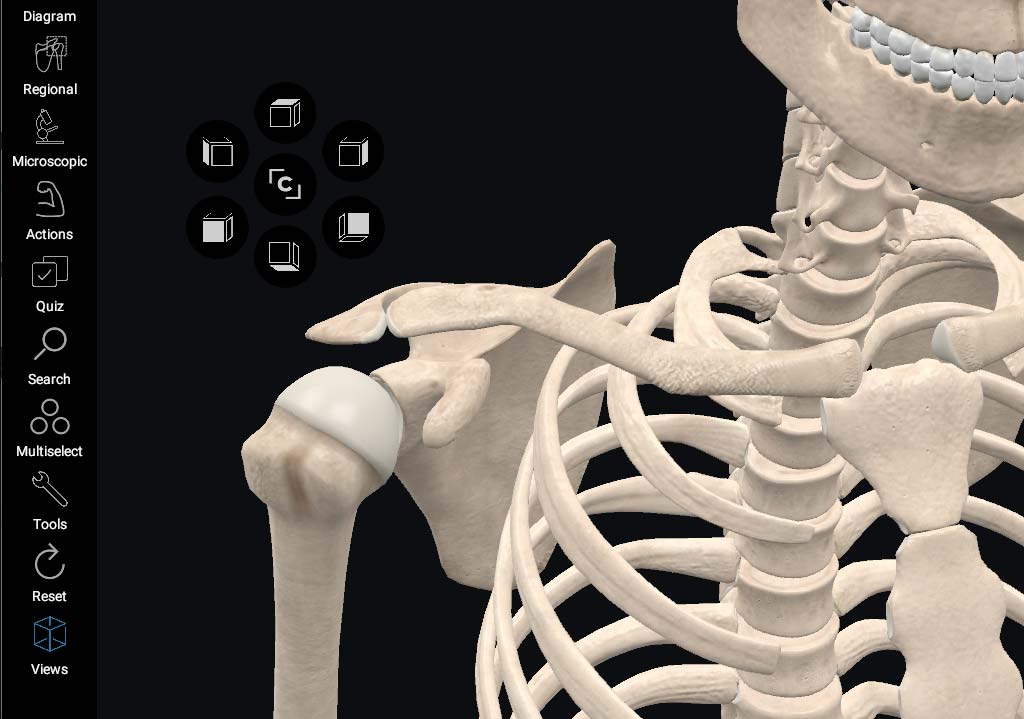 Multi-user Cross-platform Sessions
3D Organon is especially designed with the multi-user cross-platform functionality in mind. Based on the principle of bringing your own device (BOD), we support the most popular operating systems and device technologies to expand the reach of anatomy expertise. 
Everyone can join educator-led anatomy sessions, in real-time. Students, either on-campus or remotely connected, can access the whole knowledge-base of 3D models, images, animations, interactive quizzes, and anatomical definitions for self-directed study from a smartphone, tablet, desktop and XR headsets.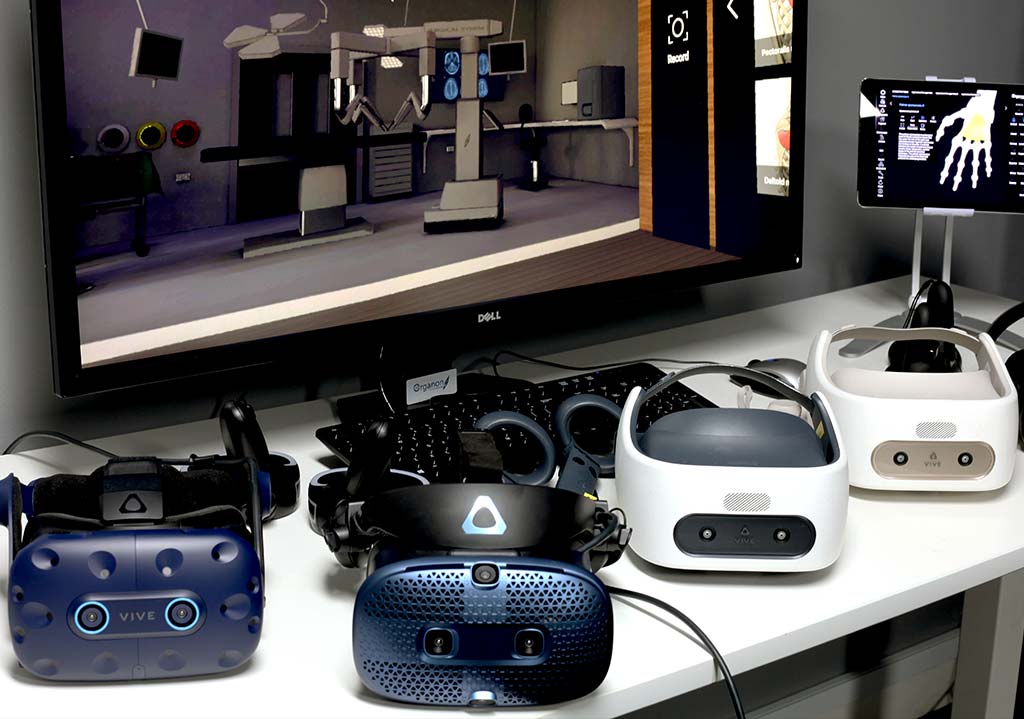 Tools
3D Organon incorporates an extensive toolkit to help you master anatomy as never before. Realize the mechanism of joint pain or swelling, bone inflammation and osteoarthritis, or even cancer development and spreading onto the models of tissues and organs, and more.
Sectioning
Sectioning parts of the human body off, uncover hidden anatomical structures and show insight into the deeper parts together with the relationships between them. You can section the 3D model from any angle you want in real-time with the slicing toolkit. Clinical and surgical procedures become more obvious as structures are cut away on a modular approach. The 'Spread apart' option will create spaces between cut structures, useful for illustrating nerve and vessel pathways.
Diagram
The Diagram tool illustrates a full mapping of all body systems and their structure classifications to provide learners with a practical overview of anatomy. At its full expansion, the entire breadcrumb navigation trail is shown together with the 3D model and its definition. This module is excellent to elucidate the broad anatomic relationships and realise the 'big-picture' of internal linking structure in a body system.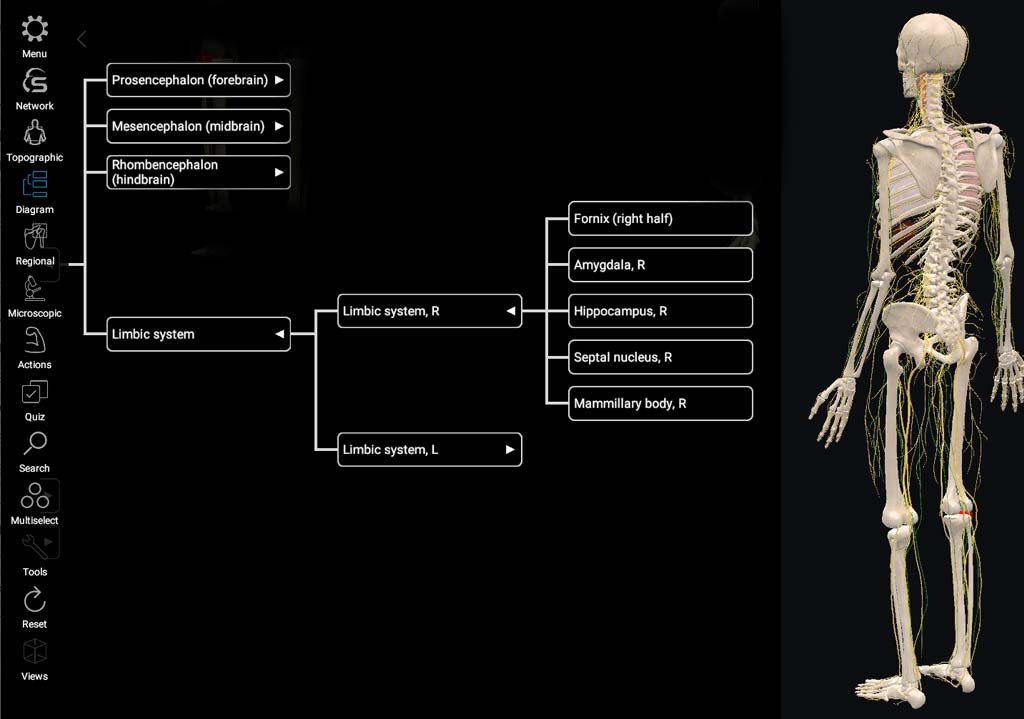 2D Painting
Drawing is interrelated with better understanding of concepts. Use our featured drawing toolstack to sketch on top of the 3D models.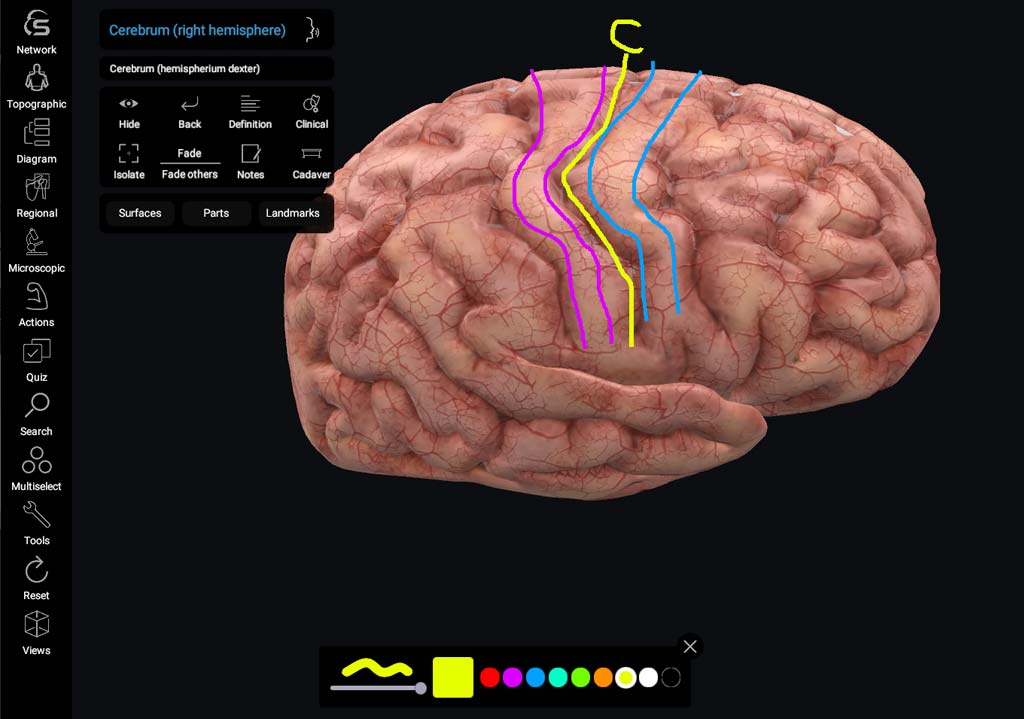 3D Painting
The 3D Painting toolkit lets your creativity run unleashed. Your VR controllers are your brushes and the 3D environment is your canvas! Discover their potential as powerful learning tools in anatomy and medicine.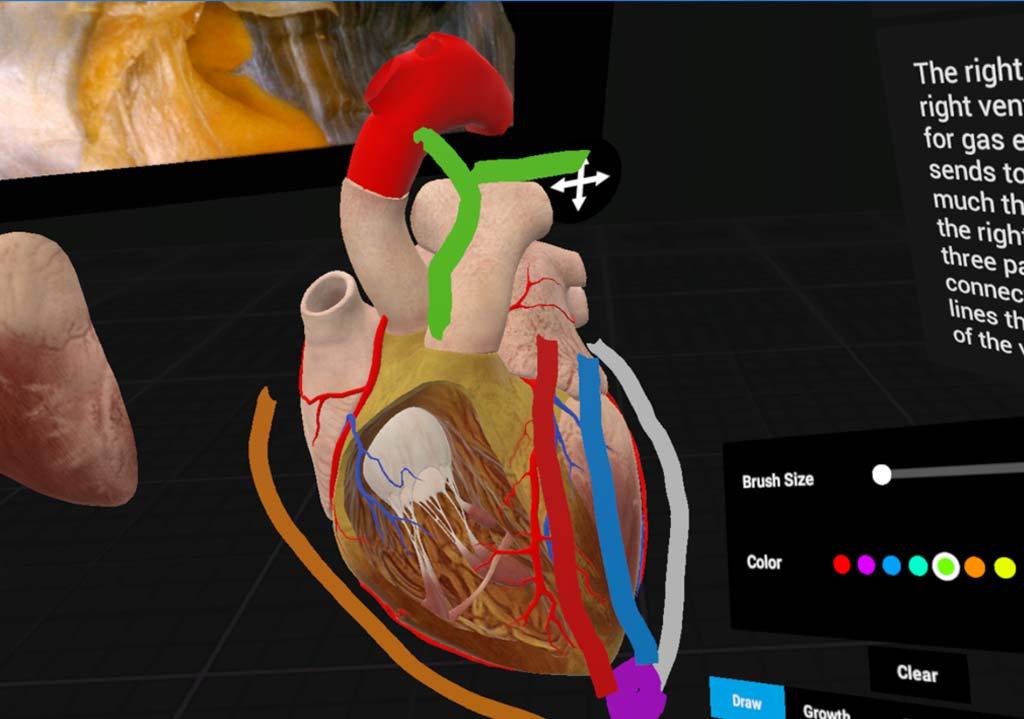 Bone Spurs (Osteophytes)
Simulate the effects of bone inflammation and osteoarthritis with the bone Spurs toolkit. This tool is favorable to clinicians who want to explain the mechanism of joint pain or swelling to patients.
Tumor Growth
Benign or malignant tumor growth is a complex process ultimately dependent on cancer cells proliferating and spreading in host tissues. The Tumor growth tool is designed to allow demonstration of cancer development and spreading directly onto the models of tissues and organs.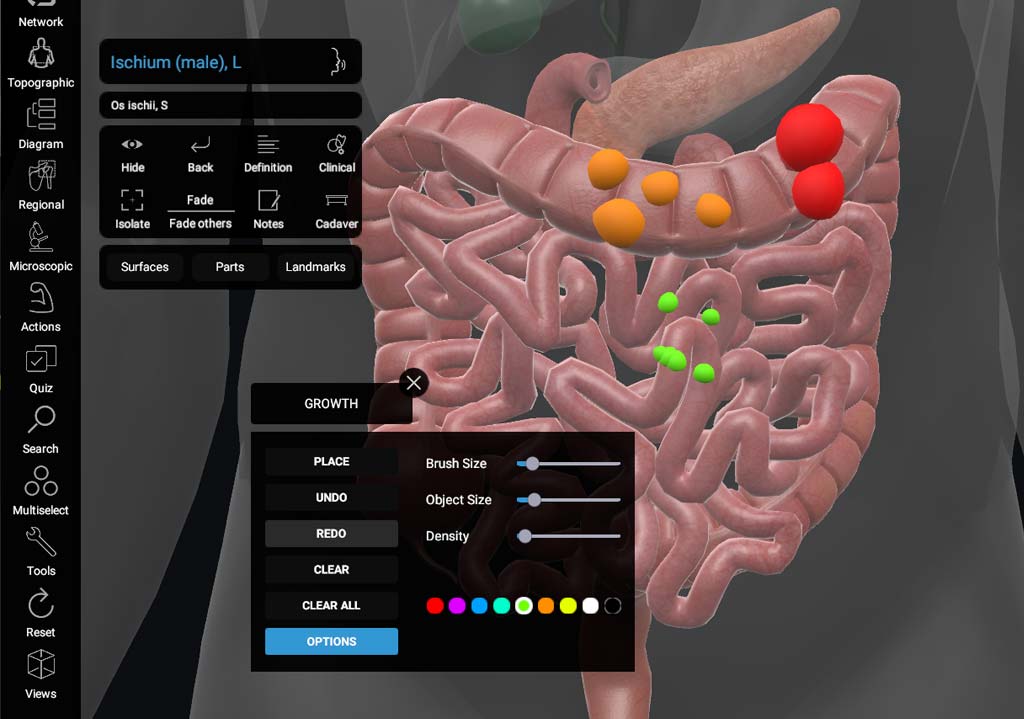 Pain Effect
The Pain effect toolkit helps you place colored glowing spheres at custom locations onto anatomical structures and organs. These effects are useful for demonstrating pain points or regions that call for attention. Clinicians will favor this repertoire of resources in patient education sessions.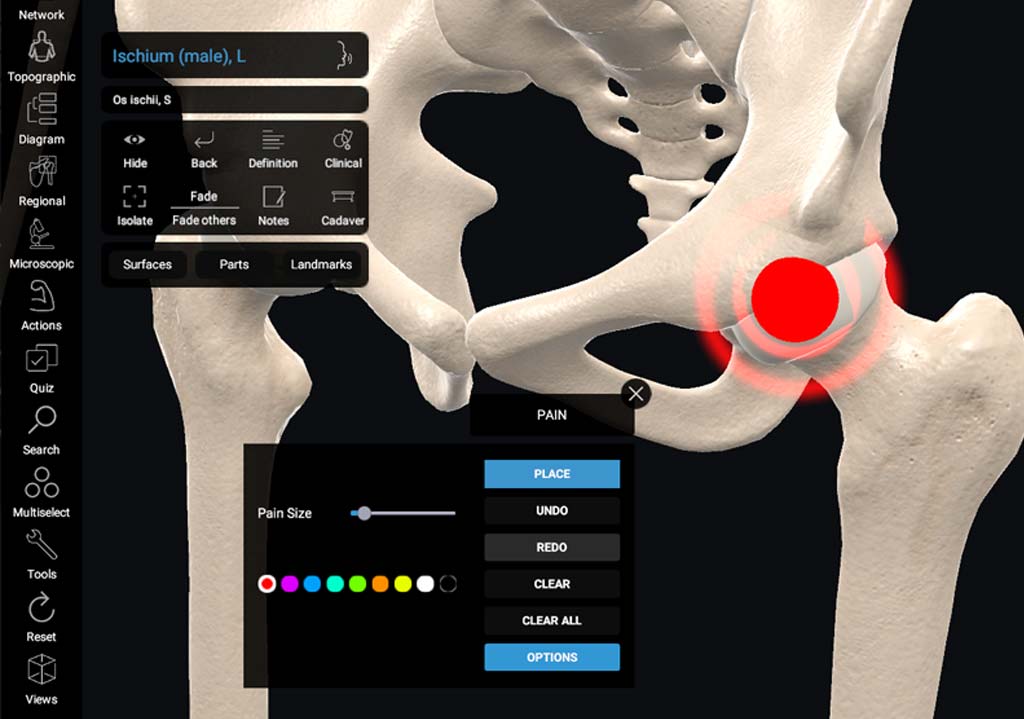 Note Taking
Note-taking in 3D Organon is the evolution of paper records. Type down your custom notes directly linked to 3D anatomy structures and revise when needed. Your personalized notes promote active learning and thus boost comprehension together with retention of detail.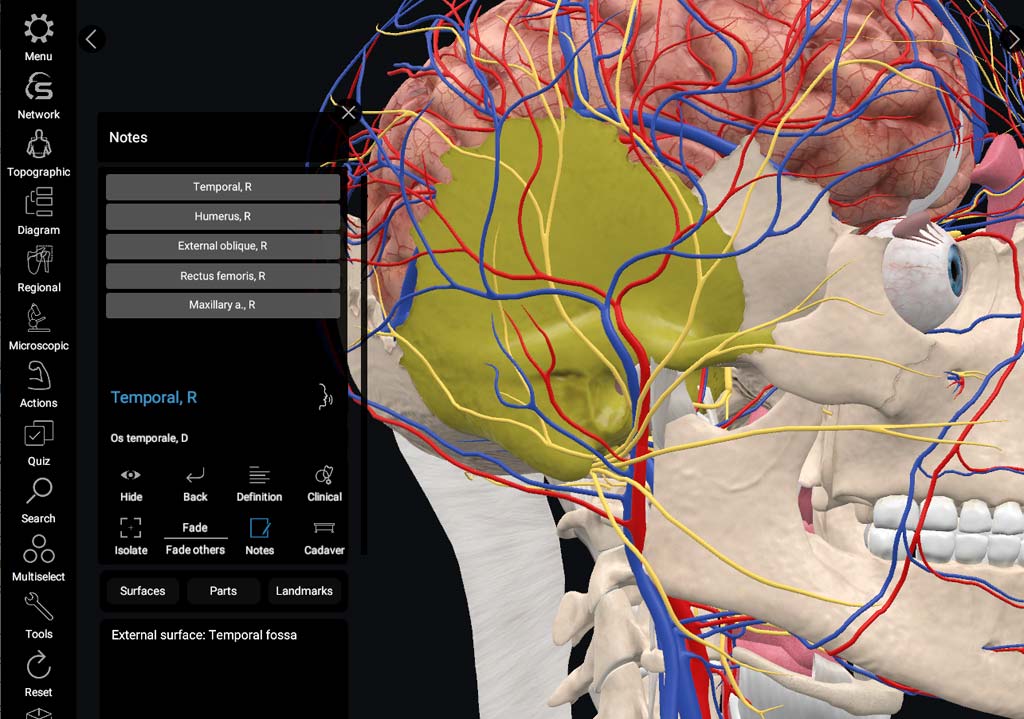 X-ray Mode
Expose the whole body or specific structures in an X-ray style. The overall appearance of the 3D model incorporates a semi-transparent visualization that resembles popular medical imaging modalities. Use this mode when you want to emphasize the location, borders and relationships to correlate with other structures.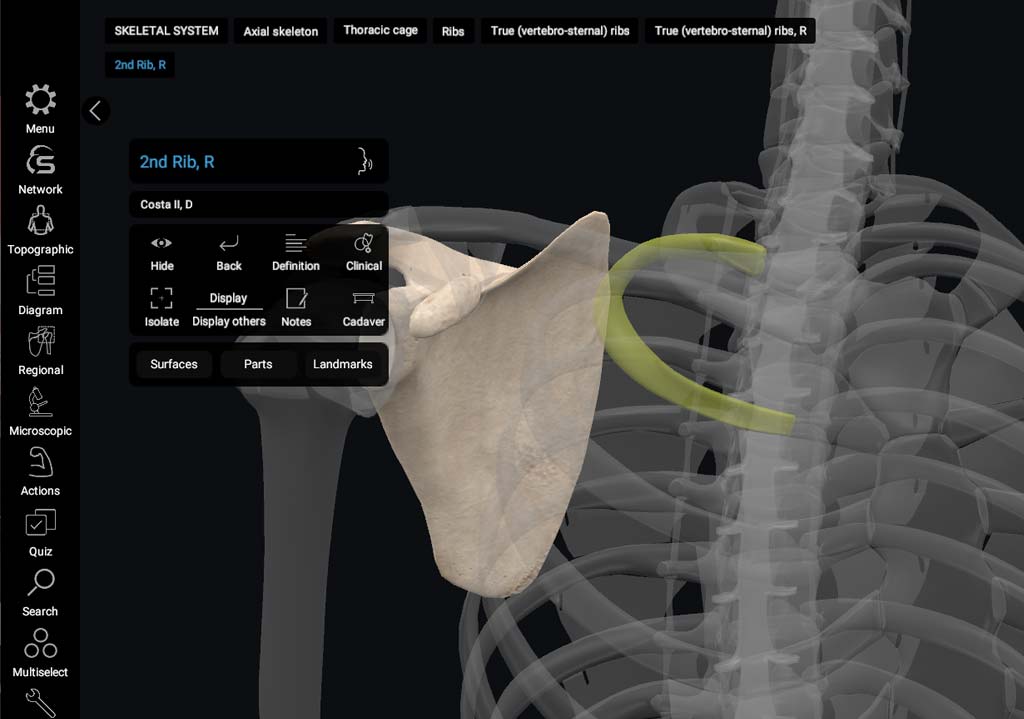 Features
Empower your learning with some of the best features available in the healthcare education software industry.
Video Capture
Capturing live actions in 3D Organon not only helps revision of digital anatomy sessions but also facilitates self-directed learning.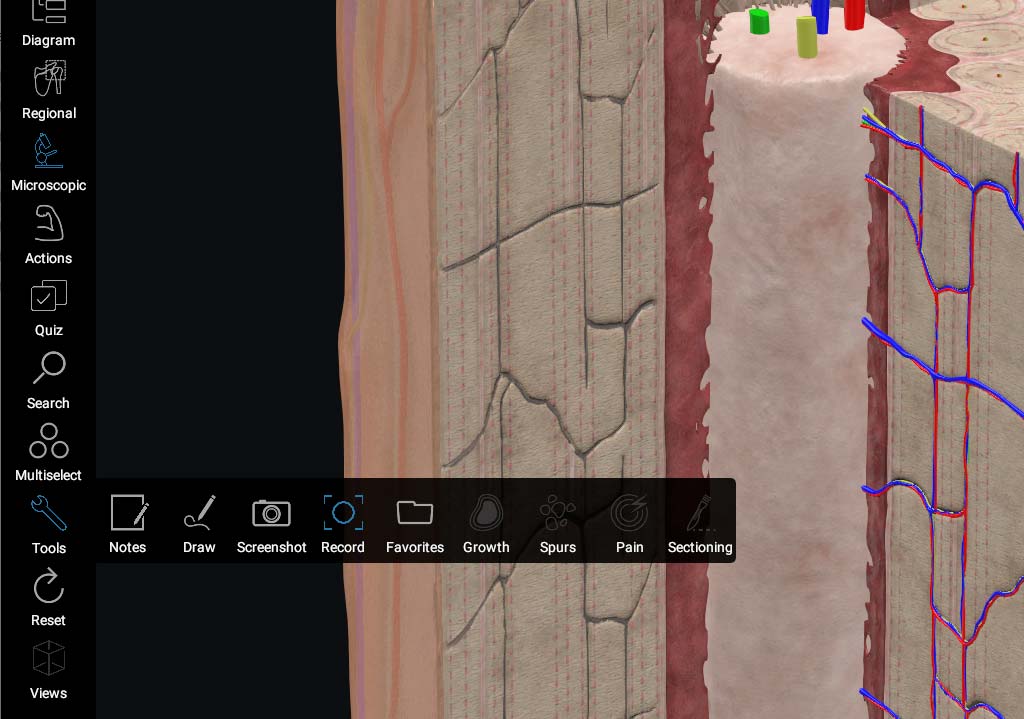 360o Video Capture
One of the key advantages of virtual reality technology is the stereoscopic immersive experience. With the 360o video capture feature you can record your interactive anatomy exploration in video format. The videos can be post-processed with 360o video publisher tools and watched with or without a VR headset, on computers and smartphone devices. The 360o video experience promotes much higher student engagement.
Snapshots
Siege the opportunity and improve your cognitive performance. Take snapshots of your favorite 3D anatomy scene. Save and share with your peers. Strengthen your synapses, the building blocks for a lasting memory.
Remote Delivery & Learning
Educational institutions globally are adapting to multimodal learning. Discover how to stage online virtual classrooms with 3D Organon. 
Enable interstate and overseas students to experience the tangible benefits of immersive 3D technologies via online virtual classrooms where anatomy is demonstrated live and students are able to explore with cross-platform device support. Off-campus students can access the whole database of 3D models, images, animations, and definitions on their own devices for self-directed study from home. The platform includes an extensive knowledge-base of anatomical definitions available in multiple languages.
Cross-platform Support
3D Organon is specially designed with cross-platform in mind. Based on the principle of bringing your own device (BOD), students and academics can use their devices to access the advantages of digital human anatomy in education. We support the most popular operating systems and device technologies to be used at the same time in a remote delivery scenario.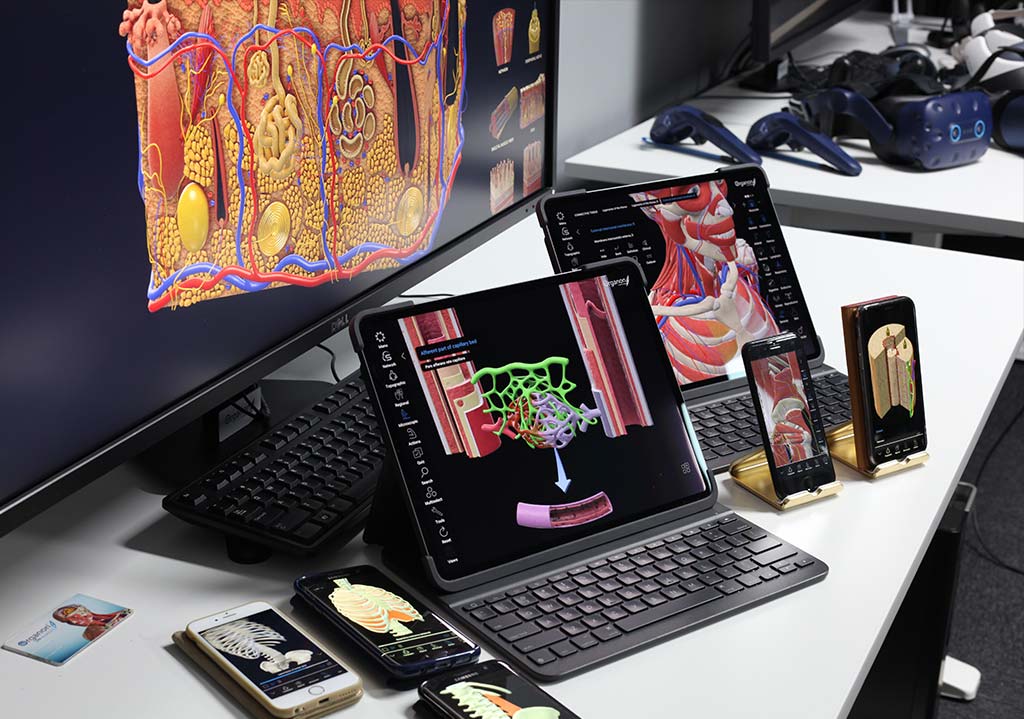 Use Cases
The wide range of supported platforms in 3D Organon allows you to choose the most appropriate use case scenario based on your resources and requirements. They span from self-directed learning to small-group learning, amphitheater lectures, and patient education. It is super easy to implement your use case based on your curriculum and course requirements.
Get inspired by the most common use case scenarios.
Students using 3D Organon for individual self-directed study (with the ability to mirror view on a 2nd screen or wall projector). Supported devices and operating systems: PC-powered VR headset (HTC VIVE, Oculus Rift S, Microsoft Mixed Reality), Standalone VR headset (Oculus Quest, HTC Focus Plus) or Windows/Apple Mac desktop,  Apple and Android smartphone and tablet devices. 

Student- or Educator-led small group teaching. A laptop, smartphone, or tablet fits well with the purpose. Augmented Reality mode could be used to superimpose anatomy in a real environment with the smartphone and tablet app. Models could be superimposed to human subjects as well.

Educator-led large group session/lecture. In this case, we recommend the educator to use the PC-powered VR or Desktop version of 3D Organon. 

Multi-user cross-platform session. There are multiple ways you can stream a virtual classroom. For example, an educator may use the VR or Desktop or Tablet version of 3D Organon to run an online session with students able to join from institutional or their devices.

Online virtual classes with interstate and overseas students participating remotely. The anatomy session is live, and students partake via voice and text chat. Off the virtual classroom, students can access the whole database of 3D models, cadaveric images, animations, interactive quizzes, and definitions on their own devices for self-directed study and formative assessment from home.

Library designated VR workstations. It enables students to quickly access immersive anatomy education.

Patient education – 3D Organon is empowering patient-centered medicine by helping doctors visually explain the appearance, position, and relationships of body structures to patients. It bridges the knowledge gap between patients and doctors and helps patients make informed decisions.

Operating theater – Revision and guidance of anatomy before and during surgery. 

Cadaveric dissection – 3D Organon models to be used to compare with cadaveric anatomy. This gives students a primer on the anatomical planes of dissection and the structures. With the Mixed Reality mode, you can compare 3D models with cadaveric specimens while you have your hands free for dissection.

Clinical skills – Revision of anatomy before and during physical examination workshops.
You can implement a combination of the above scenarios according to your requirements. Our versatile solutions can scale up based on your available floor space, budget and the number of students per class.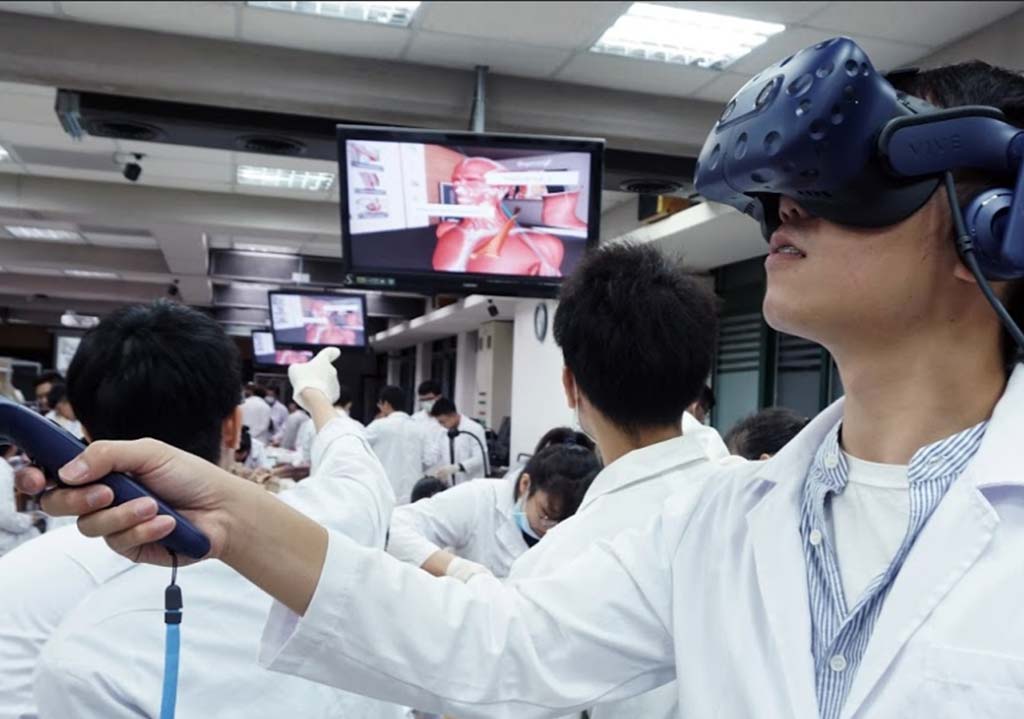 Fullscreen / Window Modes
With the fullscreen menu selection you can span out the 3D Organon app window to all portions of your desktop interface, covering the Windows / Apple Mac operating system menus and bars. It is particularly helpful when utilizing a small laptop screen.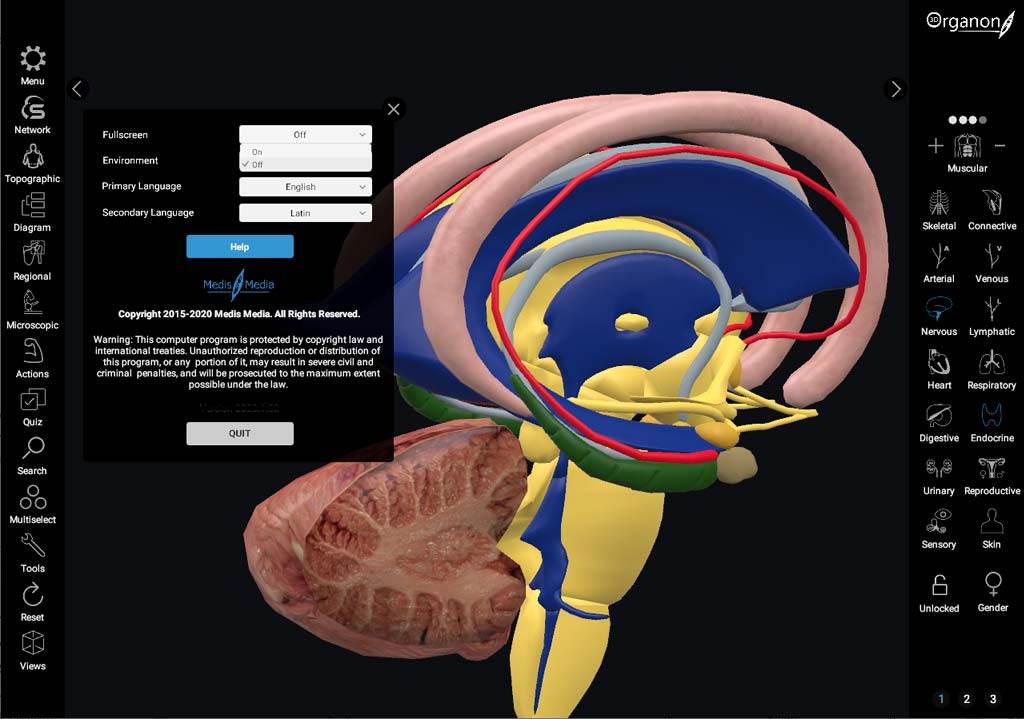 Multi-language
The platform includes an extensive knowledge-base of anatomical definitions available to multiple languages – English, Latin (terminology), traditional and simplified Chinese, German, French, Spanish, Portuguese, Italian, Russian, Ukrainian, Polish, Georgian,  Thai, and Greek. Contact 3D Organon today and give your students an edge!
English
3D Organon is a multi-award-winning software specializing in medical and healthcare education. 3D Organon is a cutting-edge anatomy learning platform, available to Virtual Reality (VR), Mixed Reality (MR), Augmented Reality (AR), desktop, tablet, and mobile devices. It proudly serves the global market and its extensive knowledge-base of anatomical definitions is available into 15 languages. 
3D Organon apps are well established in over 70 countries and have got thousands of downloads across all platforms. Hundreds of prestigious institutions, such as universities, hospitals, military units, associations, museums, libraries, and high schools are using 3D Organon for teaching and training. It outstrips its competitors. Not only is it the first of its kind, but it is also the most advanced Extensive Reality (XR) anatomy platform. 
Our prime solution — 3D Organon VR Anatomy — is the world's first fully-featured VR and MR anatomy software. It is also the winner of five technology innovation awards and three mentions. It has been featured in keynote speeches of the chairperson of HTC, Cher Wang, and the CEO of Facebook, Mark Zuckerberg. It has been highlighted by leading publications such as Huffington Post, Forbes, Scimex, SBS, Futurism, and others. 
3D Organon applications unfold high-detail 3D models, covering more than 10,000 anatomical structures organized in 15 body systems, and over 550 detailed animations of body actions of muscles and organs. 
With the multi-user, cross-platform module, 3D Organon aspires to become a game-changer in medical education. This module enables educators to host immersive real-time virtual rooms for students to suit in-campus or remote delivery of anatomy teaching. Away from the classroom, students can access the whole knowledge base of 3D models, images, animations, and definitions on their own devices for self-directed study from home. 
The 2021 edition of 3D Organon features four different environments, microscopic anatomy models, clinical anatomy USMLE-style quizzes/formative assessments, cadaveric images, AR mode, bone mapping of anatomical landmarks, slicing and pathological tools, X-ray mode, 3D painting, 360o video capture, and many more.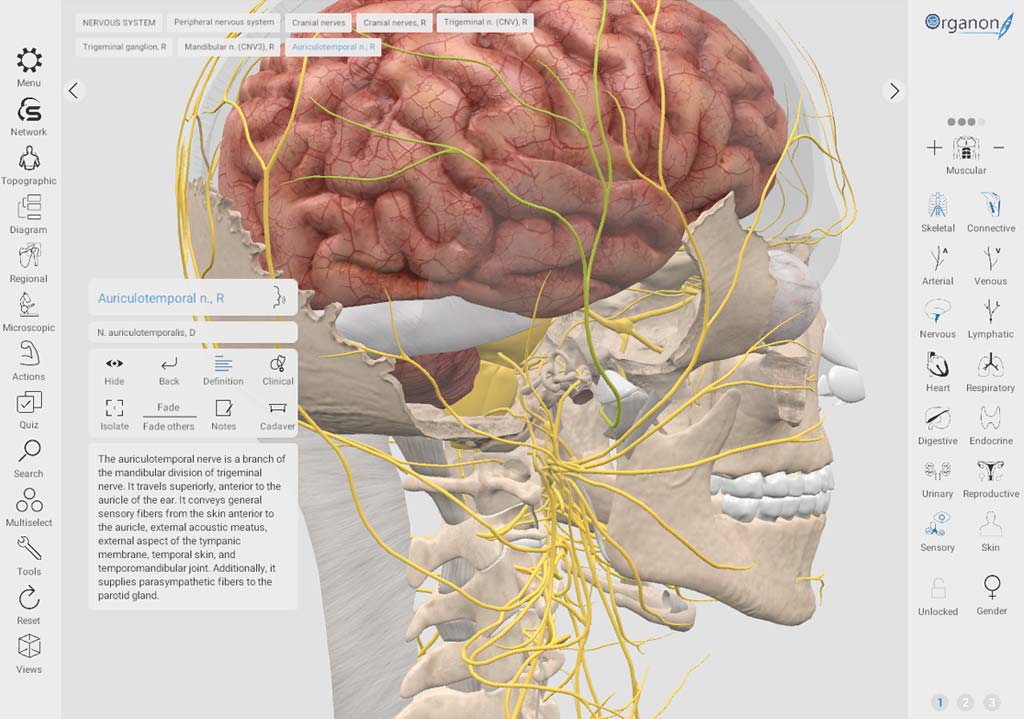 Latin
The knowledge-base of anatomical terms in 3D Organon is translated into latin anatomical terminology. A dual terminology system is implemented to visualize anatomical terms in two languages at the same time.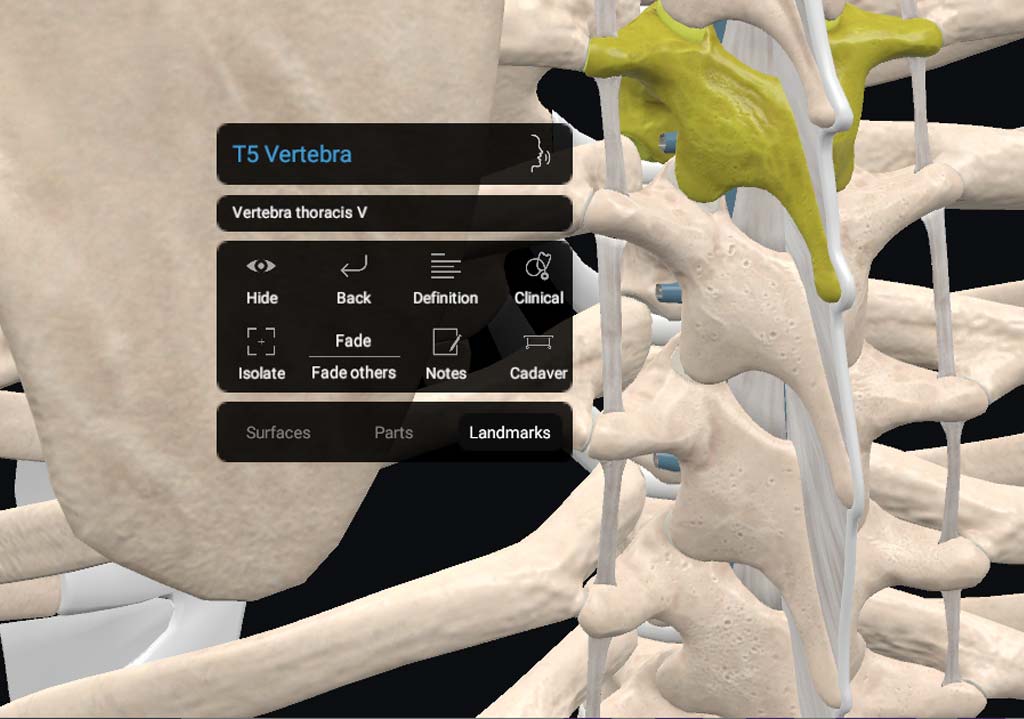 简体中文
3D Organon是一款着重于医疗与保健教育并多次获奖的软件。3D Organon 是富有前瞻性的解剖学习平台,可以支援虚拟现实(VR)、混合现实(MR)、增强现实(AR)、台式机、笔记本、平板电脑及手机。引以为傲的是他服务于全球市场,丰富的解剖学数据库可支援15种语言。
 3D Organon已有数千用户下载并广泛使用于七十几个国家,数百个著名单位均在教学与训练上使用3D Organon,包括各大医院、公会、大学、中学、军事单位、博物馆、图书馆…等。这遥遥领先了其他竞争者,因为这是一款最先进的扩展现实(XR)解剖平台。
3D Organon 的初衷-虚拟现实解剖学-是世界第一个支援虚拟现实及混合现实的软体,同时也得到五项创新技术奖。HTC董事长王雪红女士及Facebook创始人马克·扎克伯格先生都在演讲中分享过3D Organon的价值。而知名出版报导如哈芬登邮报、富比士杂志、Scimex、韩国SBS、Futurism等皆大力报导。
3D Organon 软体可以显示详细的VR模型,涵盖15个人体系统、一万多个解剖构造,以及五百多个肌肉及骨骼等的详细动作。
透过多用户、跨平台模式,3D Organon渴望成为医学教育领域的变革者。此模式能让教学者为学生提供身临其境的虚拟实境教室,能在校园内或远端进行解剖课程互动。离开教室后,学生依然可以透过个人设备登入软件,在家也能持续地学习。
2021年版的3D Organon具有的特色为:四种不同的环境、
显微解剖模型、美国医师执照测验模式、大体图谱、增强实境模式、骨骼解剖标志、切片及病理工具、X光透视模式、3D 绘制、360度VR影片教材制作等。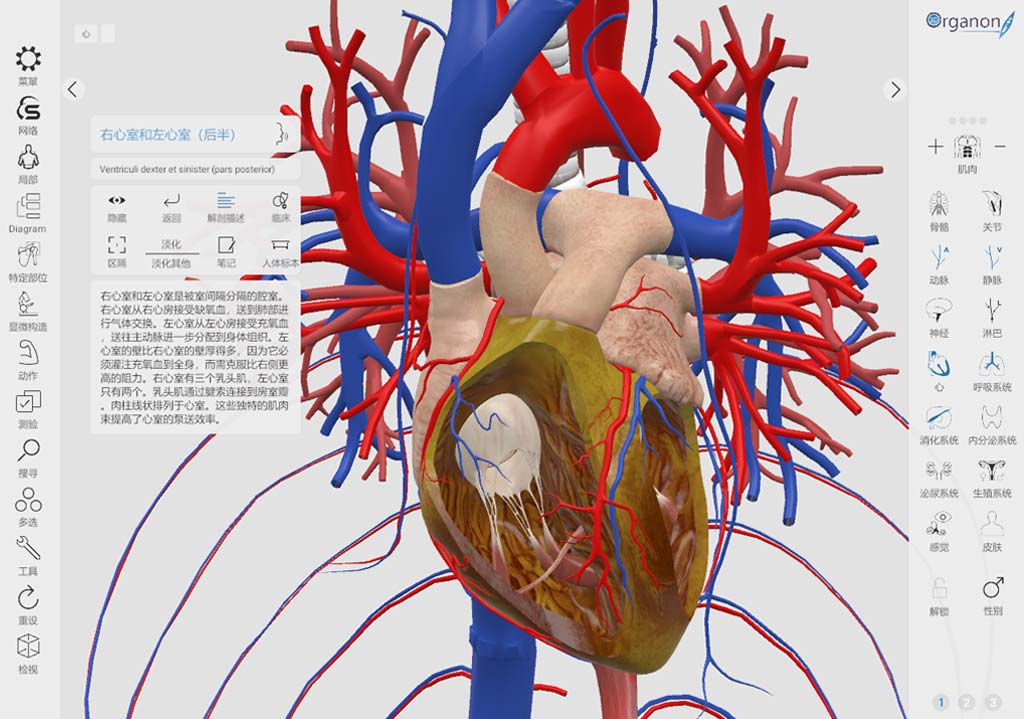 繁體中文
3D Organon是一款著重於醫療與保健教育並多次獲獎的軟體。3D Organon 是富有前瞻性的解剖學習平台,可以支援虛擬實境(VR)、混合實境(MR)、擴增實境(AR)、桌上型電腦、平板電腦及手機。引以為傲的是他服務於全球市場,豐富的解剖學資料庫可支援15種語言。
 3D Organon已有數千用戶下載並廣泛使用於七十幾個國家,數百個著名單位均在教學與訓練上使用3D Organon,包括各大醫療院所、公會、大學、中學、軍事單位、博物館、圖書館…等。這遙遙領先了其他競爭者,因為這是一款最先進的延展實境(XR)解剖平台。
3D Organon 的初衷-虛擬實境解剖學-是世界第一個支援虛擬實境及混合實境的軟體,同時也得到五項創新技術獎。HTC董事長王雪紅女士及Facebook創始人馬克·祖克柏先生都在演講中分享過3D Organon的價值。而知名出版報導如哈芬登郵報、富比士雜誌、Scimex、韓國SBS、Futurism等皆大力報導。
3D Organon 軟體可以顯示詳細的VR模型,涵蓋15個人體系統、一萬多個解剖構造,以及五百多個肌肉及骨骼等的詳細動作。
透過多用戶、跨平台模式,3D Organon渴望成為醫學教育領域的創新者。此模式能讓教學者為學生提供身臨其境的虛擬實境教室,能在校園內或遠端進行解剖課程互動。離開教室後,學生依然可以透過個人設備登入軟體,在家也能持續地學習。
2021年版的3D Organon具有的特色為:四種不同的環境、顯微解剖模型、美國醫師執照測驗模式、大體圖譜、增強實境模式、骨骼解剖標誌、切片及病理工具、X光透視模式、3D 繪製、360度VR影片教材製作等。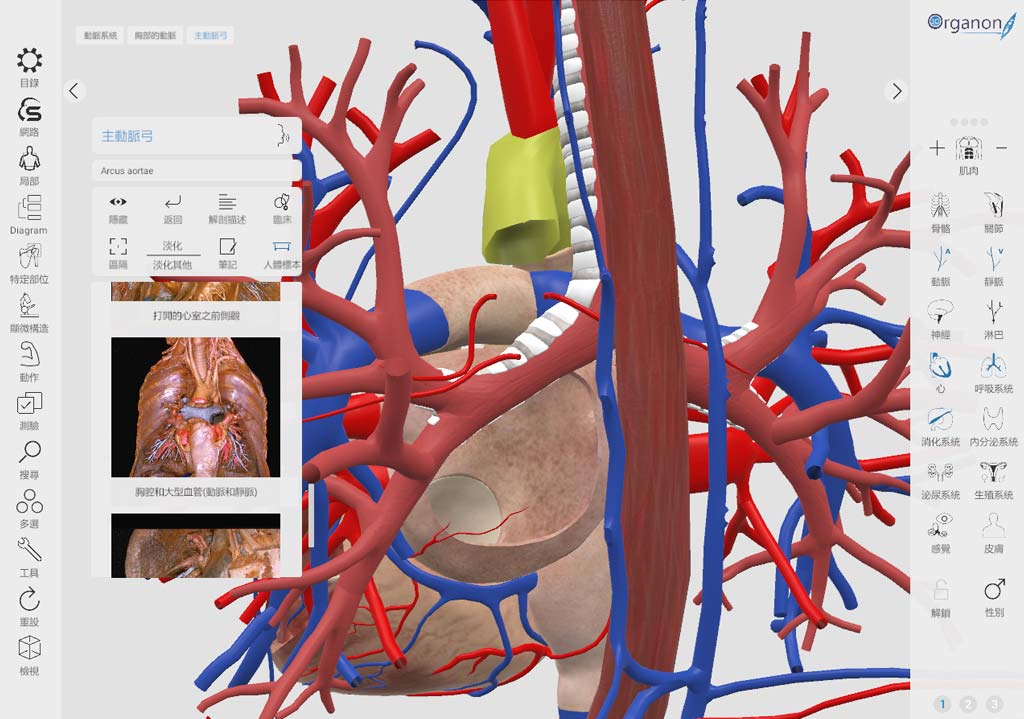 Deutsch
3D Organon ist eine mehrfach preisgekrönte Software, die auf medizinische und gesundheitliche Ausbildung spezialisiert ist. 3D Organon ist eine hochmoderne innovative Anatomie-Lernplattform, die für Virtual Reality (VR), Mixed Reality (MR), Augmented Reality (AR), Desktop, Tablet und mobile Geräte verfügbar ist. Wir sind stolz darauf, mit ihr den globalen Markt zu bedienen. Ihre umfangreiche Wissensdatenbank mit anatomischen Definitionen ist in 15 Sprachen verfügbar.
3D Organon-Apps sind mittlerweile in über 70 Ländern bestens bekannt und wurden tausende Male über alle Plattformen hinweg heruntergeladen. Hunderte von angesehenen Institutionen wie Universitäten, Krankenhäuser, Militäreinheiten, Verbände, Museen, Bibliotheken und Hochschulen setzen 3D Organon für Lehre und Ausbildung ein. Damit übertrifft sie ihre Konkurrenten bei weitem. Sie ist nicht nur die erste Software ihrer Art, sondern auch die fortschrittlichste Extensive-Reality-(XR)-Anatomieplattform.
Unsere voll umfassende Version – 3D Organon VR Anatomy – ist die weltweit erste mit allen Funktionen ausgestattete VR- und MR-Anatomiesoftware. Sie ist außerdem Gewinnerin von fünf Technologie-Innovationspreisen und drei weiteren Auszeichnungen. Sie wurde in den Keynote Speeches des Vorsitzenden von HTC, Cher Wang, und des CEO von Facebook, Mark Zuckerberg, vorgestellt. Zudem wurde sie von führenden Publikationen wie Huffington Post, Forbes, Scimex, SBS, Futurism und anderen in den Mittelpunkt gerückt.
3D Organon-Anwendungen zeigen sehr detaillierte 3D-Modelle, die mehr als 10.000 anatomische Strukturen, die in 15 Körpersystemen angeordnet sind, und über 550 detaillierte Animationen von Körperaktionen von Muskeln und Organen umfassen.
Mit dem Multi-User-Cross-Platform-Modul setzt 3D Organon alles daran, zu einem wegweisenden Akteur in der medizinischen Ausbildung zu werden. Dieses Modul ermöglicht es Dozenten, immersive virtuelle Echtzeit-Räume für Studenten zu hosten, um den Anatomieunterricht auf dem Campus oder aus der Ferne abzuhalten. Außerhalb des Seminarraums können die Studenten auf ihren eigenen Geräten auf die gesamte Wissensdatenbank mit 3D-Modellen, Bildern, Animationen und Definitionen zugreifen, um von zu Hause aus autonom und selbstbestimmt zu lernen.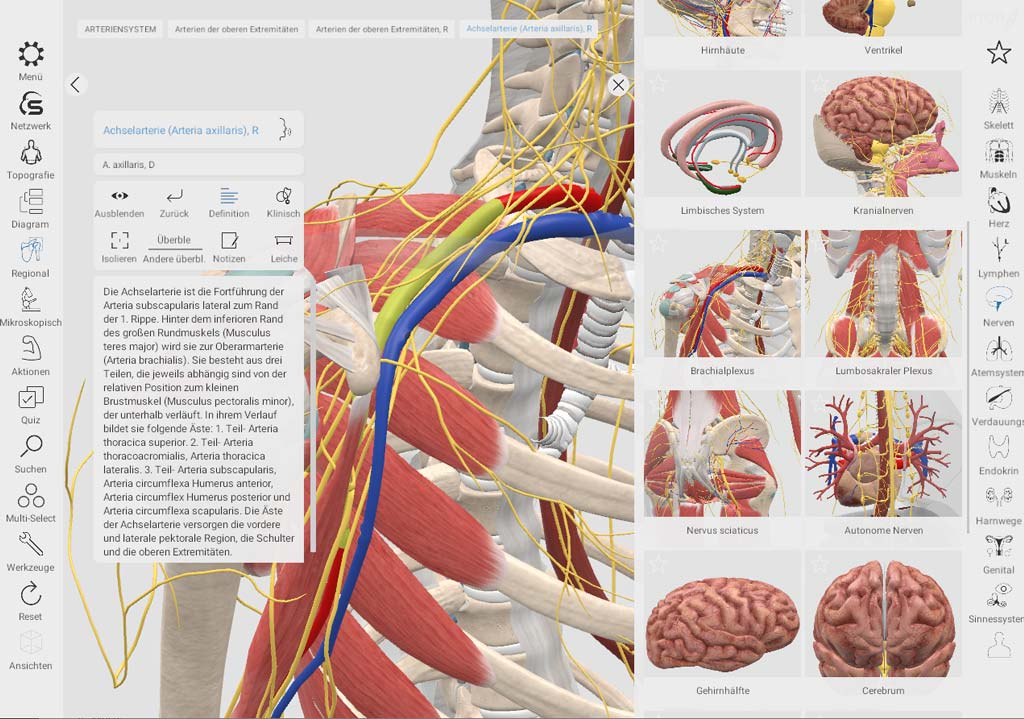 Français
3D Organon est un logiciel multi-primé spécialisé dans l'éducation médicale et la santé. 3D Organon est une plate-forme d'apprentissage de l'anatomie de pointe, disponible pour la réalité virtuelle (VR), la réalité mixte (MR), la réalité augmentée (AR), les ordinateurs de bureau, les tablettes et les appareils mobiles. Il sert fièrement le marché mondial et sa vaste base de connaissances sur les définitions anatomiques est disponible en 15 langues.
Les applications 3D Organon sont bien établies dans plus de 70 pays et ont obtenu des milliers de téléchargements sur toutes les plateformes. Des centaines d'institutions prestigieuses, telles que des universités, des hôpitaux, des unités militaires, des associations, des musées, des bibliothèques et des lycées utilisent 3D Organon pour l'enseignement et la formation. Il devance ses concurrents. Non seulement c'est la première du genre, mais c'est aussi la plateforme d'anatomie Extensive Reality (XR) la plus avancée.
Notre solution principale – 3D Organon VR Anatomy – est le premier logiciel d'anatomie VR et RM complet au monde. Il est également lauréat de cinq prix d'innovation technologique et de trois mentions. Il a été présenté dans les discours liminaires du président de HTC, Cher Wang, et du PDG de Facebook, Mark Zuckerberg. Il a été mis en évidence par des publications de premier plan telles que Huffington Post, Forbes, Scimex, SBS, Futurism et autres.
Les applications 3D Organon déploient des modèles 3D très détaillés, couvrant plus de 10000 structures anatomiques organisées en 15 systèmes corporels et plus de 550 animations détaillées des actions corporelles des muscles et des organes.
Avec le module multi-utilisateurs et multiplateforme, 3D Organon aspire à changer la donne dans l'enseignement médical. Ce module permet aux enseignants d'héberger des salles virtuelles immersives en temps réel pour les étudiants, adaptées à la prestation sur le campus ou à distance de l'enseignement de l'anatomie. En dehors de la salle de classe, les élèves peuvent accéder à l'ensemble de la base de connaissances des modèles 3D, des images, des animations et des définitions sur leurs propres appareils pour une étude autonome depuis chez eux.
L'édition 2021 de 3D Organon propose quatre environnements différents, des modèles d'anatomie microscopique, des quiz / évaluations formatives d'anatomie clinique de style USMLE, des images cadavériques, un mode AR, une cartographie osseuse de repères anatomiques, des outils de tranchage et pathologiques, le mode rayons X, la peinture 3D, Capture vidéo à 360o et bien d'autres.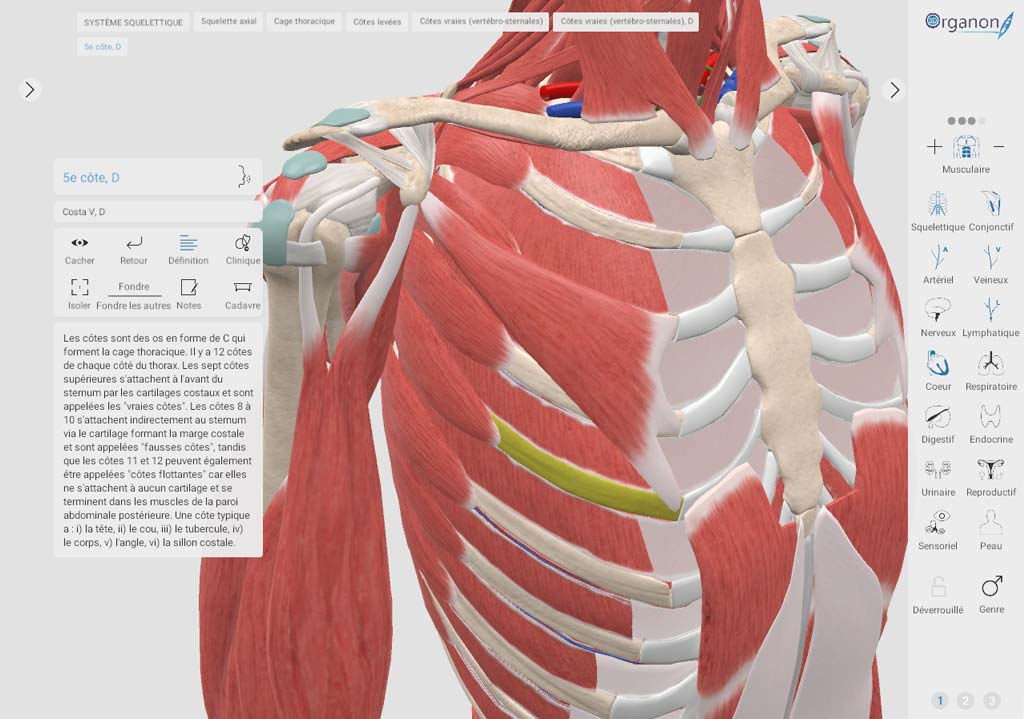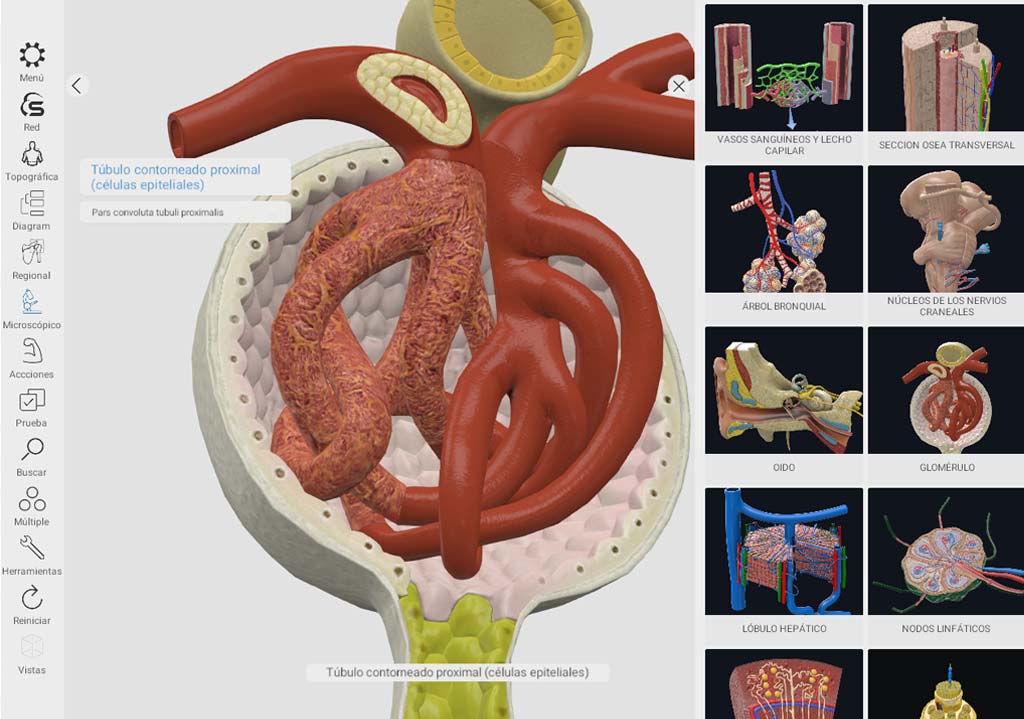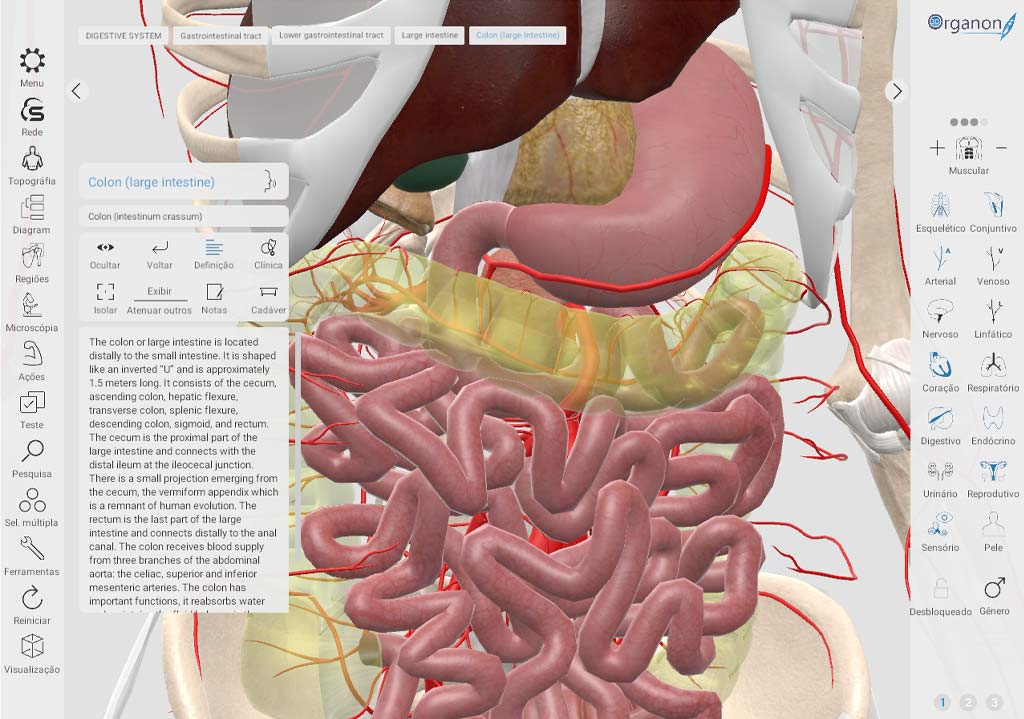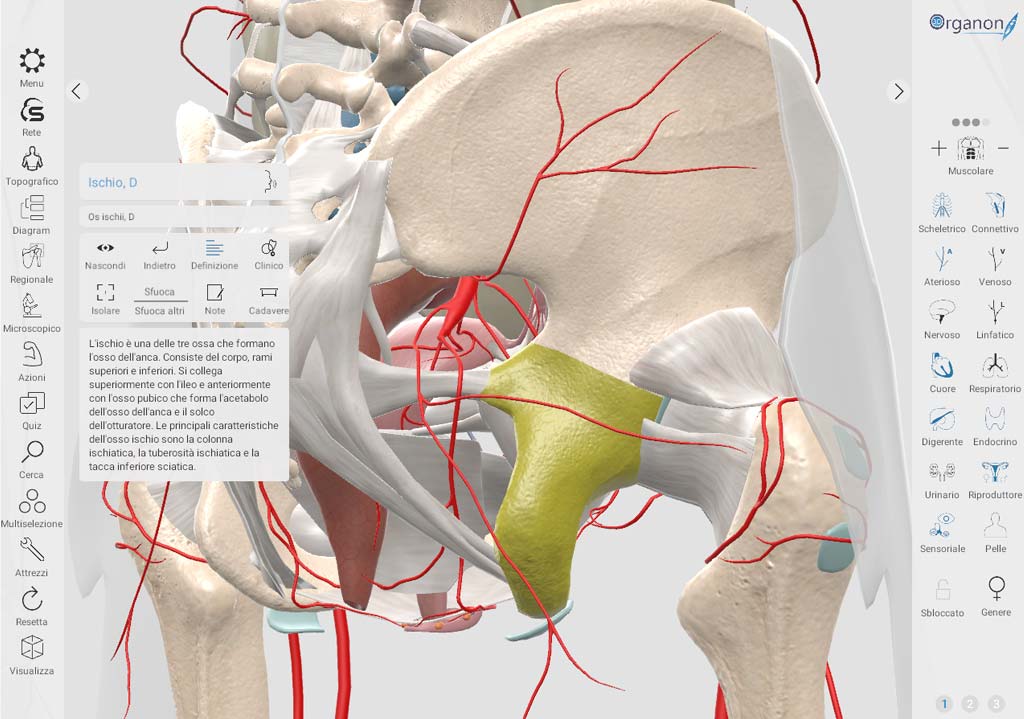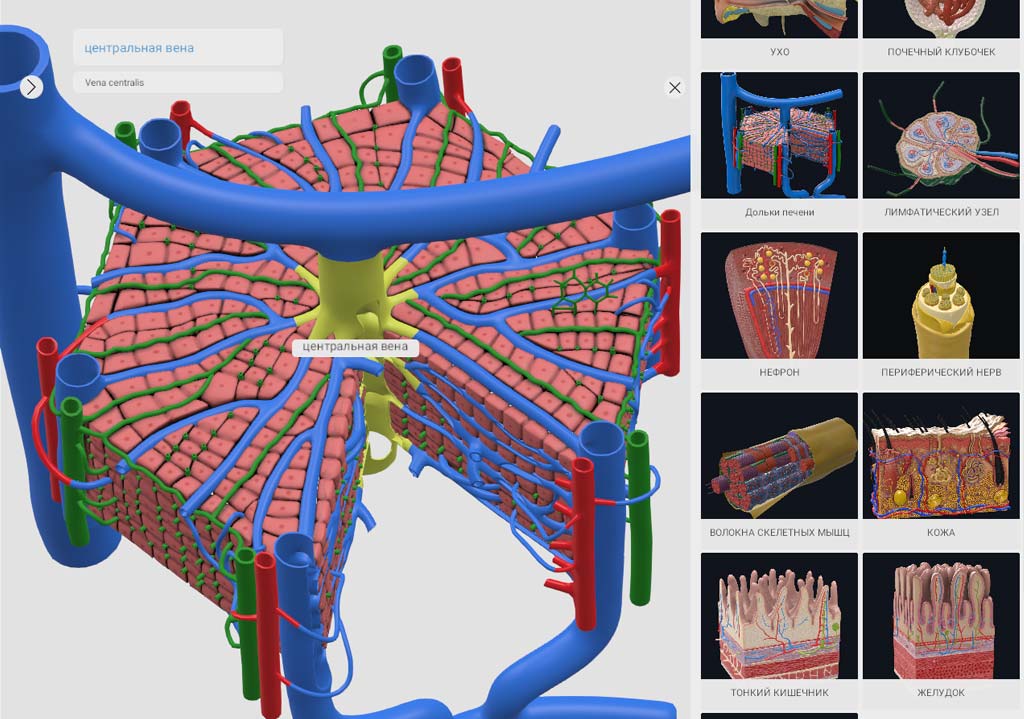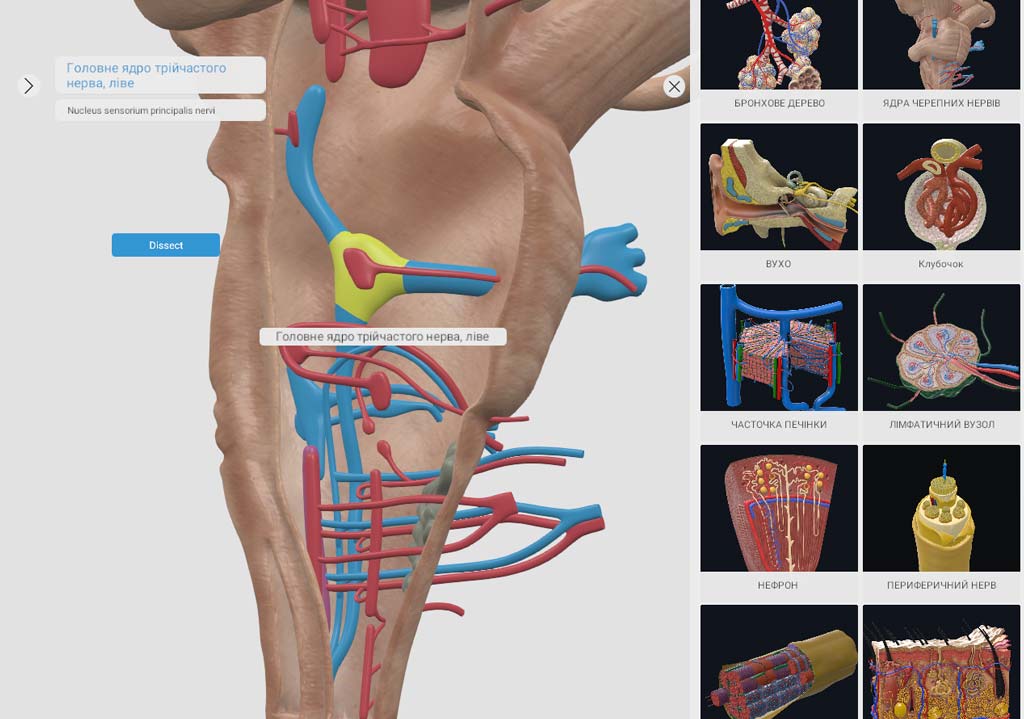 Polski
3D Organon to wielokrotnie nagradzane oprogramowanie do edukacji w zakresie nauk medycznych i opieki zdrowotnej. 3D Organon to najnowocześniejsza platforma do nauki anatomii, oferująca rzeczywistość wirtualną (Virtual Reality/VR), mieszaną (Mixed Reality/MR) i poszerzoną (Augmented Reality/AR) na komputerach, tabletach i urządzeniach mobilnych. Z dumą możemy powiedzieć, że 3D Organon obsługuje rynek globalny, a jego obszerna baza wiedzy na temat definicji anatomicznych jest dostępna w 15 językach.
Aplikacje 3D Organon są dobrze znane w ponad 70 krajach i mają tysiące pobrań na wszystkich platformach. Setki prestiżowych instytucji, takich jak uniwersytety, szpitale, jednostki wojskowe, stowarzyszenia, muzea, biblioteki i szkoły średnie, używają 3D Organon do nauczania i szkolenia. Wyprzedzamy konkurencję. Jest to nie tylko pierwsza tego typu platforma, ale także najbardziej zaawansowana platforma anatomiczna typu XR (Extensive Reality).
Nasz główny produkt – 3D Organon VR Anatomy – to pierwsze na świecie w pełni funkcjonalne oprogramowanie do anatomii w trybie VR i MR. Jest ono także zdobywcą pięciu nagród i trzech wyróżnień w kategorii innowacji technologicznych. Zostało ono przedstawione w przemówieniach wprowadzających Cher Wang, prezes HTC oraz Marka Zuckerberga, CEO Facebooka. Pisano o nim na łamach czasopism takich jak, m.in. Huffington Post, Forbes, Scimex, SBS czy Futurism.
Aplikacje 3D Organon ukazują bardzo szczegółowe modele 3D, obejmujące ponad 10 000 struktur anatomicznych zorganizowanych w 15 układach ciała oraz ponad 550 szczegółowych animacji czynności ciała, mięśni i narządów.
Dzięki swojej wieloplatformowości i dostępności jednocześnie dla wielu użytkowników, 3D Organon ma aspiracje stać się przełomem w edukacji medycznej. Oprogramowanie umożliwia nauczycielowi tworzenie wirtualnych pokoi w czasie rzeczywistym, dostosowanych do nauczania anatomii na terenie kampusu lub na odległość. Studenci mogą uzyskać dostęp do całej bazy modeli 3D, obrazów, animacji oraz definicji z dala od sali wykładowej, na własnych urządzeniach podczas samodzielnej nauki w domu.
Edycja 3D Organon z 2021 roku zawiera cztery różne środowiska, mikroskopowe modele anatomiczne, testy/zadania z anatomii klinicznej w stylu egzaminów USMLE, zdjęcia anatomiczne, tryb AR, mapowanie punktów kostnych, narzędzia do tworzenia wycinków i zmian chorobowych, tryb rentgenowski, malowanie 3D, wideo 360° i wiele innych.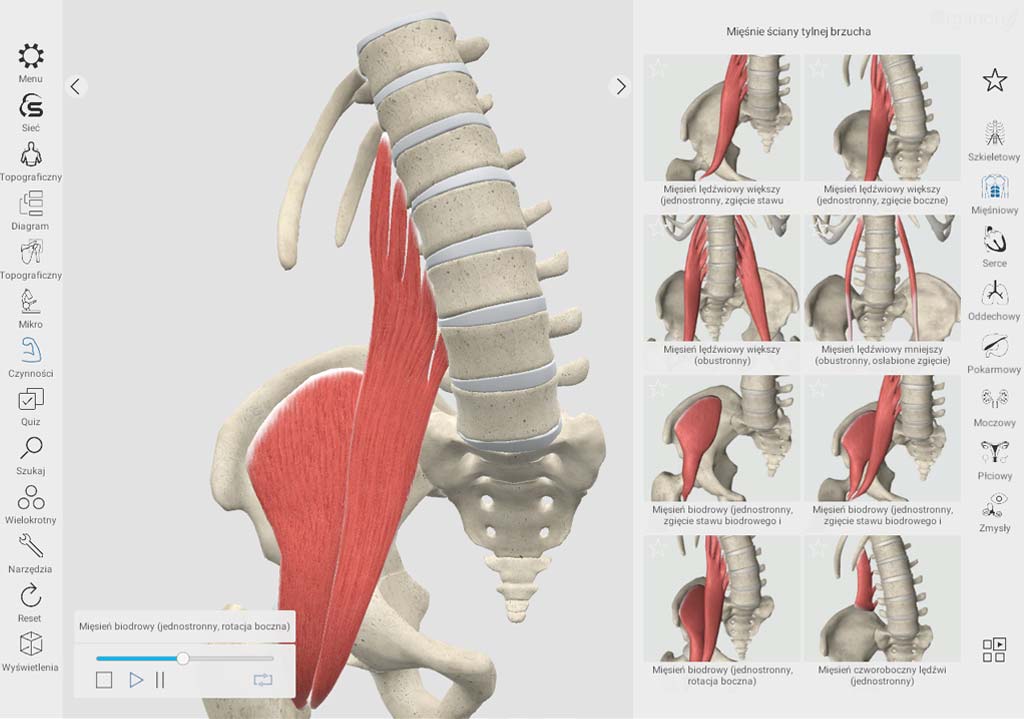 ქართული
3D Organon არის მრავალი ჯილდოს მფლობელი პროგრამა, რომელიც სპეციალიზირებულია სამედიცინო და ჯანდაცვის განათლების სფეროში. 3D Organon არის ლიდერი ანატომიის სასწავლო პლატფორმა, რომელიც ხელმისაწვდომია ვირტუალური რეალობის (VR), შერეული რეალობის (MR), აუგმენტური რეალობის (AR), კომპიუტერის, ტაბლეტისა და მობილური მოწყობილობებისთვის. იგი ამაყად ემსახურება მსოფლიო ბაზარს და მისი ფართო ანატომიური განმარტებების ცოდნის ბაზა ხელმისაწვდომია 15 ენაზე.
3D Organon-ის აპლიკაციები მყარად არის დამკვიდრებული 70-ზე მეტ ქვეყანაში და აქვს ათასობით ჩამოტვირთვა  ყველა პლატფორმაზე. ასობით პრესტიჟული დაწესებულება, როგორიცაა უნივერსიტეტები, საავადმყოფოები, სამხედრო ნაწილები, ასოციაციები, მუზეუმები, ბიბლიოთეკები და საშუალო სკოლები, იყენებენ 3D Organon- ს სწავლებისა და ტრენინგისთვის. პროგრამა წინ უსწრებს კონკურენტებს. იგი არა მხოლოდ პირველია თავისი ფორმატით, არამედ ის არის ყველაზე მოწინავე ფართო რეალობის (XR) ანატომიური პლატფორმა.
ჩვენი მთავარი პროდუქცია – 3D Organon VR Anatomy – არის მსოფლიოში პირველი სრულყოფილი ვირტუალური რეალობის (VR) და შერეული რეალობის (MR) ანატომიური პროგრამა. იგი ასევე არის ხუთი ტექნოლოგიური ინოვაციის ჯილდოს გამარჯვებული და სამჯერ არის პატივცემულად ნახსენები. პროგრამა ნაჩვენებია HTC- ის თავმჯდომარის, ჩერ ვანგისა და Facebook- ის გენერალური დირექტორის, მარკ ცუკერბერგის მთავარ სიტყვით გამოსვლებში. პროგრამა მოიხსენიეს წამყვანმა გამოცემებმა, როგორიცაა Huffington Post, Forbes, Scimex, SBS, Futurism და სხვ.
3D Organon პროგრამა ასახავს დეტალურ 3D მოდელებს, რიმელიც  ​​მოიცავს 10,0000 ზე მეტ ანატომიურ სტრუქტურას. სტრუქტურები ორგანიზებულია 15 სხეულის სისტემების მიხედვით. პროგრამა ასევე ფარავს 550-ზე მეტ ანიმაციას; კუნთებისა და ორგანოების მოქმედებას.
მრავალ მომხმარებელიანი, გადაჯვარედინებული პლატფორმიანი მოდულით, 3D Organon ისწრაფვის გახდეს ინოვაციური, წამყვანი პროდუქტი სამედიცინო განათლების სფეროში. პროგრამის არსებული მოდული საშუალებას აძლევს პედაგოგებს, უმასპინძლონ სტუდენტებს რეალურ დროში, ვირტუალურ ოთახებში, რომლებიც მოერგება ანატომიის სწავლებას უნივერსიტეტში ან ლექციის დისტანციურ მიწოდებას. საკლასო ოთახებიდან მოშორებით, მოსწავლეებს შეუძლიათ მიიღონ 3D მოდელების, სურათების, ანიმაციების და განმარტებების ბაზა საკუთარ მოწყობილობებზე სახლიდან გაუსვლელად, როგორც ლექციის ასევე თვითმართვადი სწავლის სახით.
3D Organon– ის 2021 წლის გამოცემაში წარმოდგენილია ოთხი სხვადასხვა გარემო, მიკროსკოპული ანატომიის მოდელები, კლინიკური ანატომიის USMLE სტილის ამოცანები და განმსაზღვრელი შეფასებები, კადავერული/გვამის სურათები, აუგმენტური რეალობის რეჟიმი, ანატომიური ღირშესანიშნაობების ძვალზე მონიშვნებით, დანაწევრების და პათოლოგიური საშუალებები, რენტგენის რეჟიმი, 3D ხატვა, 360o ვიდეო გადაღება და მრავალი სხვა.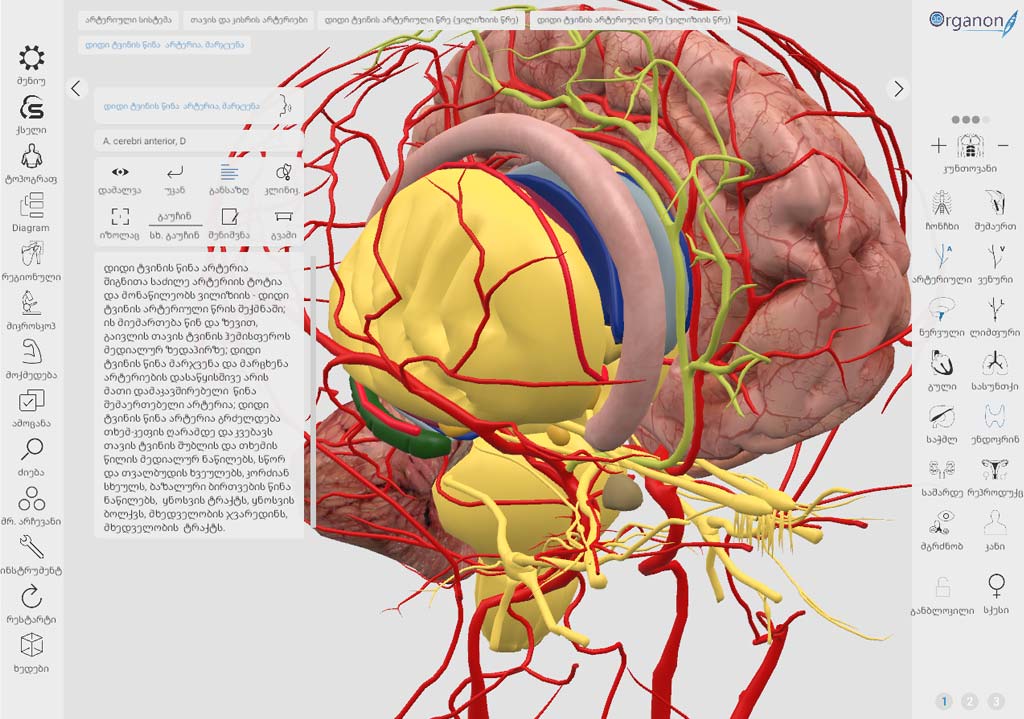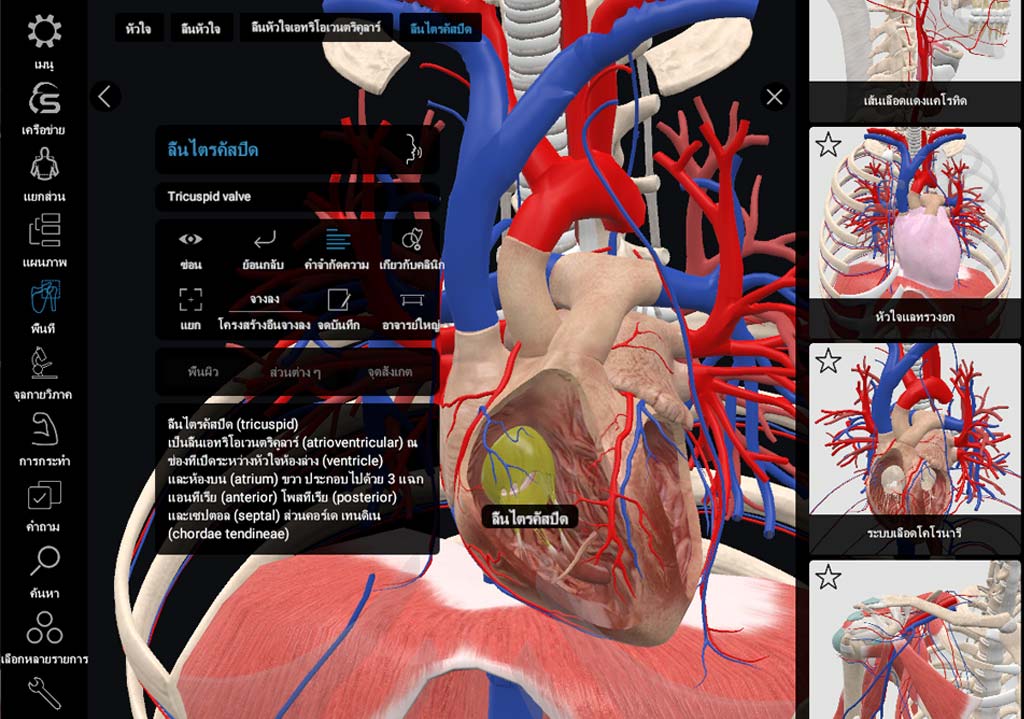 Ελληνικά
Το 3D Organon είναι μια πολυβραβευμένη εφαρμογή με επίκεντρο τον τομέα της ιατρικής και παραϊατρικής εκπαίδευσης. Eίναι μια σύγχρονη πλατφόρμα εκμάθησης του γνωστικού αντικειμένου της ανατομίας, διαθέσιμη σε όλες τις τεχνολογίες όπως, Virtual Reality (VR), Mixed Reality (MR), Augmented Reality (AR), υπολογιστές (Windows & macOS), tablet και κινητές συσκευές (smartphone).
Με κύριο γνώμονα τo 3D Organon VR Anatomy, αποτελεί την πρώτη και πληρέστερη εφαρμογή ανατομίας σε περιβάλλοντα Virtual Reality (VR) και Mixed Reality (MR) παγκοσμίως. Με σημαντικό προβάδισμα έναντι των ανταγωνιστών της στο οικοσύστημα Extensive Reality (XR), δεν είναι τυχαίο ότι έχει αποσπάσει πέντε βραβεία τεχνολογίας και καινοτομίας καθώς και τρείς διακρίσεις. Έχει δε εγκωμιασθεί σε ομιλίες σημαντικών προσώπων, όπως αυτή της προέδρου της HTC, Cher Wang, και του Διευθύνοντος Συμβούλου του Facebook, Mark Zuckerberg. Έχει επίσης προβληθεί από κορυφαίες εκδόσεις όπως οι Huffington Post, Forbes, Scimex, SBS, Futurism και άλλες.
Οι εφαρμογές 3D Organon έχουν ήδη καθιερωθεί σε περισσότερες από 70 χώρες. Η ευρύτατη βάση δεδομένων της σε ανατομικούς όρους και ορισμούς διατίθεται σε 15 γλώσσες για να εξυπηρετήσει υπεύθυνα την παγκόσμια αγορά. Εκατοντάδες αναγνωρισμένα ιδρύματα, όπως πανεπιστήμια, νοσοκομεία, στρατιωτικές μονάδες, οργανισμοί, μουσεία, βιβλιοθήκες και σχολεία ήδη χρησιμοποιούν την εφαρμογή 3D Organon για εκπαιδευτικούς και επιμορφωτικούς λόγους.
Τα 3D μοντέλα που υποστηρίζει είναι εξαιρετικής σαφήνειας και καλύπτουν περισσότερες από 10.000 ανατομικές δομές, οργανωμένες στα 15 συστήματα του σώματος, 550 λεπτομερείς κινούμενες ανα-παραστάσεις των κινήσεων των αρθρώσεων, των μυών και οργάνων.
Με κινητήρια δύναμη την δυνατότητα multi-user και cross-platform, το 3D Organon εκμηδενίζει τις αποστάσεις, αλλάζοντας ριζικά τα δεδομένα στον τομέα της ιατρικής εκπαίδευσης. Γίνεται ένα αποτελεσματικό εκπαιδευτικό πλεονέκτημα αφού, όχι μόνο διευκολύνει αλλά και αναβαθμίζει την ποιότητα διδασκαλίας-μάθησης, καλύπτοντας τις σύγχρονες ανάγκες για διά ζώσης και εξ' αποστάσεως εκπαίδευση.
Οι εκπαιδευτικοί έχουν την δυνατότητα, σε πραγματικό χρόνο, να δημιουργήσουν ένα συναρπαστικό περιβάλλον Εικονικής Πραγματικότητας (Virtual Reality) στο οποίο θα διδάξουν το μάθημα της ανατομίας σε μαθητές/φοιτητές από/σε όποιο σημείο αυτοί και να βρίσκονται. Εκτός της αίθουσας διδασκαλίας και μέσω των δικών τους συσκευών, έχουν δυνατότητα πρόσβασης σε ολόκληρη τη βάση δεδομένων, αποτελούμενη από τρισδιάστατα μοντέλα, κινούμενες εικόνες (animations), ανατομικούς ορισμούς, αλλά και πολλές άλλες λειτουργίες και εργαλεία τα οποία μετατρέπουν τη μαθησιακή διαδικασία στην πλέον ενδιαφέρουσα, διαδραστική γνωστική εμπειρία. Παράλληλα, οι σπουδαστές μυούνται στην διερευνητική μάθηση με τεράστια οφέλη τόσο στο παραγόμενο μαθησιακό αποτέλεσμα  όσο και στην καλλιέργεια αυτονομίας του σπουδαστή.
To 3D Organon περιλαμβάνει τέσσερα διαφορετικά περιβάλλοντα εργασίας, μοντέλα μικροσκοπικής ανατομίας, ερωτήσεις αξιολόγησης τύπου USMLE στην κλινική ανατομία, πτωματικές ανατομικές εικόνες, λειτουργία Επαυξημένης Πραγματικότητας (AR), Bone mapping των ανατομικών Επιφανειών και Σημείων, εργαλεία τομής και εργαλεία παθολογίας, λειτουργία Ακτινογραφίας (Χ-ray), τρισδιάστατα γραφήματα, λήψη βίντεο 360o, και πολλά άλλα.